After Three Years of Central Rule in Kashmir, the Ground Situation Is No Better
David Devadas | 21 June 2021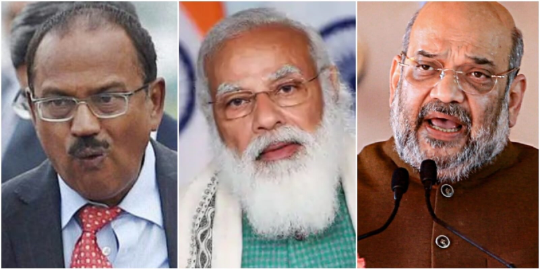 ---
As Prime Minister Modi prepares to meet political leaders from Jammu and Kashmir in Delhi on June 24, he could face questions on what his government has accomplished on the ground since June 2018.
Since the days of the Raj, Srinagar's Church Lane has been a "VIP area". It houses top civil and police officers, the Circuit House, and ministerial bungalows. As may be expected, it has maximum security. Right opposite it, on the other side of the Residency Road, is the office of a leading politician and businessman.
I'm told that, a couple of nights ago, young men on a motorcycle rode up to that office and asked the guard some questions about when the bosses sit, and when job-seekers could meet them. When one of them lit a cigarette, the guard glimpsed a weapons' pouch under his raincoat.
Terrorists, it seems, feel confident enough about doing night recces of the most secure parts of Kashmir. There are indications that leading figures among the new crop of political activists who contested grassroots elections are among their targets.
Hope has been belied
Sadly, hope-filled narratives of peaceable calm that common media coverage – or non-coverage – would suggest do not adequately reflect the reality on the ground. A policeman was killed not far from his home in the heart of Srinagar earlier this week, after a more lethal attack in Sopore a few days before.
Home Minister Amit Shah convened a meeting with the state DGP, heads of intelligence agencies, and of central police outfits. A senior officer said it was to review the situation regarding security and development prior to a decision on this year's Yatra. But the list of attendees indicated that security was the focus rather than development.
The prime minister has convened a meeting with state politicians and others on Thursday, and the place has been buzzing with rumours about further reorganisation of the erstwhile state. But there's no getting away from the continuing security threats.
Boys continue to go underground every few days, to become militants, and several Pakistani terrorists are lurking too.
Trying to hammer down militancy with detentions, interrogations, surveillance, threats, and restrictions has not worked.
Reaching out with empathetic reasoning, revamped education, and de-radicalisation programmes has not been tried.
In the bargain, the opportunity of the past three years has been largely wasted.
Arrogant chief secretary
It was exactly three years ago, on June 20, 2018, that Governor's rule was imposed on the erstwhile state of Jammu and Kashmir. The government led by Mehbooba Mufti of the PDP had been brought down by her coalition partner, the BJP, the previous day.
A new chief secretary, B.V.R. Subrahmanyam, bustled into the corridors of power soon after, pulling up all and sundry – even governors and lieutenant-governors along the way.
Subrahmanyam didn't let the first lieutenant-governor, G.C. Murmu, function, and ensured that high-speed internet connectivity was not restored even after the LG and all forces and agencies gave a thumbs-up.
Even the very able current lieutenant-governor, Manoj Sinha, is said to have confided to a visitor that the bureaucracy has hogtied the delivery of good governance.
All this has badly eroded the credibility of the Centre, for Subrahmanyam's clout stemmed from the belief that he had the backing of no less than the prime minister.
So convinced was he of his value that he didn't leave for several days after he was posted out. He and his successor are said to have turned up for a couple of meetings. Finally, the grapevine says, he left after the home minister intervened.
'Back to the Village' disappointed
Subrahmanyam had said when he first arrived that a new book could be written about improvements in administration, the economy, and politics after President's rule. But on the ground, three years on, there is little to show of a revitalised administration – except in glossy, expensively-produced brochures, one about each department and each district.
He repeatedly sent the lower bureaucracy 'back to the village' to learn about people's problems. The first time, people enthusiastically told them of their concerns and wishes, even in the most militancy-affected districts.
Nothing came of it, though. So, when he sent those bureaucrats back for another 'back to the village' round of interactions, people ignored them.
Any strategist with an understanding of Jammu and Kashmir would have known that a corrupt, extortionate bureaucracy is the core of Kashmir's problems. Many of them were selected for who they knew, or paid. In far too many cases, their loyalties are neither to the country, nor to the less fortunate among their people, but rather to their network of power and privilege.
Rage stems from misgovernance
As I showed in The Generation of Rage in Kashmir, the unfortunate downside of all this is that the rage of young people gets stoked by anger and resentment against the non-performing and extortionist lot among the bureaucrats, who act in the name of the Indian state, as much as it is by radical ideas and radicalising narratives.
Although the official count of militants shows a decrease, it is plain that militants still lurk, boys continue to go underground, and that a number of foreigners are among them. Reports from the ground reflect unease behind the surface calm.
Threats from west and east
Meanwhile, two of Pakistan's corps have been engaged in war games close to the Line of Control (LoC) and the border to the southwest and south of Jammu and Kashmir.
This is worrisome, particularly since the Peoples Liberation Army intruded into Ladakh after conducting its own round of war games in Aksai Chin in the first quarter of 2020.
Over the past few weeks and months, China has ramped up war preparations across the Line of Actual Control (LAC) in Ladakh and the northeast. Large arrays of tanks, missiles, and aircraft have been deployed in Tibet.
Aircraft have been placed at two airfields in the Tibet region, and soldiers have been replaced along the LAC stand-off in very large numbers.
One hopes the fears I have expressed over the past decade will not come true: I first said in March 2011 that India faces a triad of threats—from China, Pakistan, and street uprisings in Kashmir—which could converge.
David Devadas is the author of The Story of Kashmir (2019).
This article was originally published on The Wire.
Views in this article are author's own and do not necessarily reflect CGS policy.
Comments