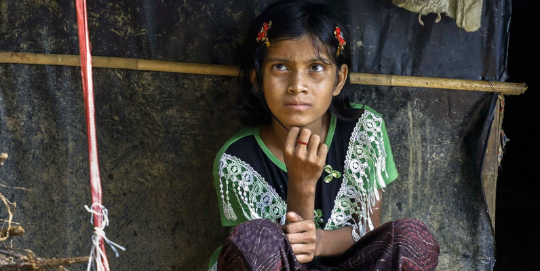 ---
A few days ago, a piece of news caught my eye regarding a ninth-grade girl who wanted to be a pilot. Unfortunately though, she was married off in her adolescence.
Soon, she was sent to her In-laws and an unwanted life began. The notebook where she detailed her drawbacks, covered in layers of dust, was later discovered by her younger sibling.
What hurt me most was that it is a 10-year-old story and the scenario has not changed a bit. So many dreams are shattered every year under the grip of a monstrous virus named "child marriage".
The coronavirus pandemic has had a devastating effect on our country for the last one year and although it may end soon, there is no sign that the scourge of child marriage will go away in the near future.
Instead, it has taken a new shape after the surge of Covid-19 infections in our country.
A study conducted by Manusher Jonno Foundation revealed that 13,886 child marriages took place in 21 districts during the months when a nationwide lockdown was observed in 2020.
According to the study, at least 4,866 of them were recorded by the marriage registrars. Another study by BRAC found a 13 per cent rise in child marriage while surveying 11 districts in Bangladesh.
Both of the above-mentioned data were collected in the selected areas by non-governmental capacities. However, not everyone opens their mouth, nor do all incidents come on the radar of mainstream media or surveys.
But after analyzing the current scenario, it can easily be said that the current child marriage situation in Bangladesh is frightful. A country report published by UNICEF stated that 51 per cent of young women in Bangladesh are victims of child marriage, the highest in South Asia.
As per the same report, Bangladesh has 38 million child brides, of which 13 million were married before the age of 15. This information begs the question -- Are we doing enough?
The government has been always willing to take necessary measures to put a full stop to this gruesome tradition.
In 2017, Bangladesh introduced the Child Marriage Restraint Act-2017, replacing the old one from 1929. The Ministry of Women and Children Affairs and UNICEF Bangladesh also jointly launched the National Plan of Action (NPA) back in 2018, aiming to end child marriage.
The goal was to end the marriage of girls below 15 years of age within 2021, reduce the number of girls married under 18 years of age by one-third at the same time, and completely eliminate child marriage by 2041.
The NPA included the formulation of national, district, upazila and union level committees with necessary guidelines and measures.
To end child marriage, the government has worked with national and international organisations and some areas were also declared as child marriage free as a result.
The government initiated the Child Helpline-1098, following Article-90 of the Children Act-2013 to provide a communication channel for vulnerable children to report any rights violation to the respective authority.
However, all the progress seemed to be hampered or postponed due to the recent resurgence of Covid-19 and subsequent lockdown measures. In April 2020, the child helpline received 450 phone calls related to child marriage while the national emergency hotline received 45 per cent more calls related to child marriage the same year.
The most common problem faced by families during the pandemic is a loss of income. Around 77 per cent of Bangladeshi families observed a decrease in their income last year.
Due to the common mindset in our culture, marrying off the adolescent girls in one's family seems to be a good solution as they are often treated as a burden.
Girls have equal rights according to article 28(2) of our constitution, but not in our culture. Another concern guardians often have is the insecurity regarding the future, which has been triggered more than ever during the pandemic.
Most of the guardians in rural and working-class families still cannot think that a girl could be economically independent in the future.
In those cases, chile marriage seems like a logical option to secure the girl's future. Social stigma related to unmarried young girls often works as a booster dose in our country as well.
Uneducated mothers, who often do not know the consequences of child marriage on a girl's physical and mental health, think that marrying them off in early age is better for their future safety.
A lot of parents think that girls getting older might cause problems during their marriage, which is also a harsh truth of our culture.
Local administration and law enforcement agencies need to be more cautious and proactive during the Covid-19 period to reduce the number of such incidents.
The planned committees mentioned in the NPA can play a vital role in this scenario.
Government efforts to communicate with families and include them in the social safety net can help reduce the issue for the time being but we need to focus on sustainable solutions and ways to handle the post-pandemic scenario.
Collaborative initiatives between government and non-governmental organisations will be necessary to handle the post-pandemic situation in regards to child marriage.
However, the effort will not matter if the societal structure is not changed gradually. Social mobilisation can work as a vital factor if properly implemented on a mass level.
Adolescent girls and their families need to learn about the complex and harmful consequences of child marriage in a girl's life.
Most importantly, economic empowerment of our young girls should be the highest priority in our agenda. Without empowering girls to stand for their rights and to support themselves, no effort can be sustained for long.
The author is a research intern at the Centre for Governance Studies.
Views in this article are author's own and do not necessarily reflect CGS policy.
Comments