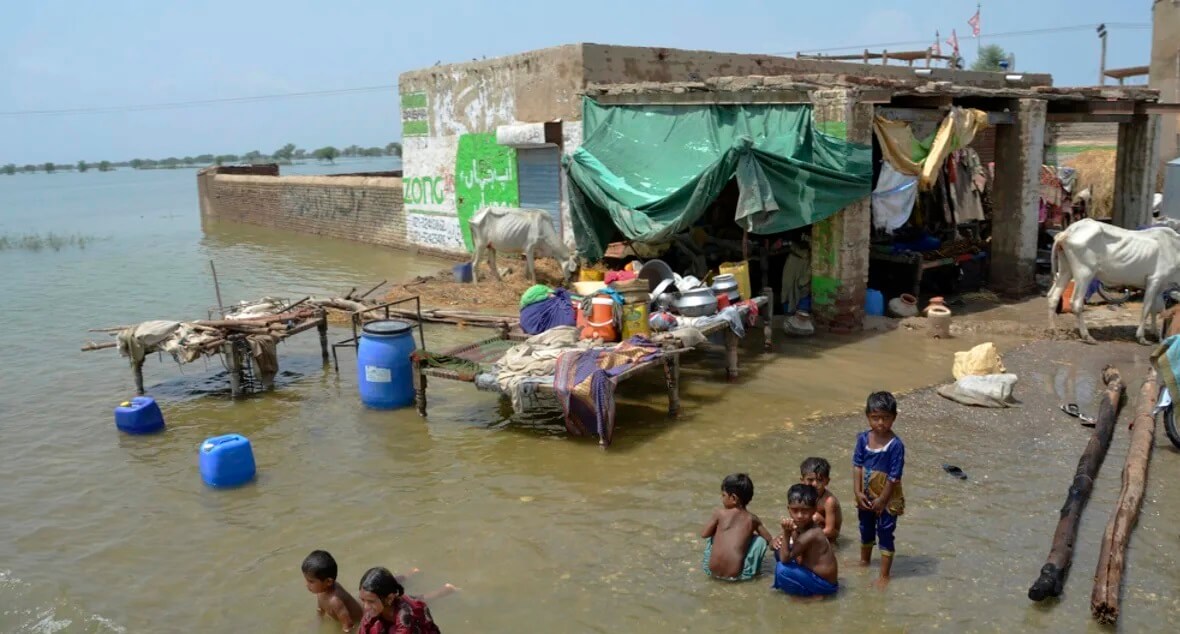 ---
Can we help avert the suffering of our people? Can we diminish our losses? Or are we to accept this as our fate?
The juggernaut of the calamitous floods in Pakistan continues to devastate everything in its path, exacerbated this year by what has been aptly described by the UN Secretary General as "monsoons on steroids". Soaring temperatures, periods of drought, and floods are now following a cyclical pattern. Crucially, as a direct result of the rapid increase in population, we see each year a larger share of the population being adversely affected by the vagaries of nature. So far, 33 million people (equivalent to the population of Australia) have been displaced; several hundreds have lost their lives. The question is: can we mitigate the impact of natural disasters? Can we help avert the suffering of our people? Can we diminish our losses? Or are we to accept this as our fate?
The Nobel laureate economist Amartya Sen, in his insightful treatise 'Development as Freedom', argues that a pluralistic political system coupled with a free press is the best way to avoid famine and other temporary calamities. He claims that while India suffered from famines under British rule, these ceased post-independence with the establishment of a multiparty democracy and an independent press.
Evidence in support of Mr Sen's hypothesis shows that the impact of natural disasters is less pronounced in circumstances where the press has attained a level of maturity that distinguishes between what is a non-issue and what is newsworthy; and further, where it plays a more proactive role in discharging its social responsibilities, as reflected in the importance given to social issues that impinge upon the lives of ordinary people and the underprivileged. This is also the case in countries where democratic institutions are strong; where representatives are elected or ousted based on performance; where the grassroots local government structures are vibrant, and accountability is ensured through regular elections; and where communication channels allow people's needs to be heard by those in authority, and people are allowed to exert their civil and political rights. Evidence from Bangladesh — a country frequently ravaged by floods and cyclones — shows that in areas where there are strong local body panchayat systems, the impact of floods is muted.
In our case, it is unfortunate that social issues such as health, education, population growth, malnutrition, poverty and rights of the marginalized seldom find a prominent place in the media debates or press headlines. Despite precise meteorological warnings, some of our media continued to report inconsequential issues instead of raising the alarm about the looming crisis and the urgency of intervention. Our press must play its role to help reach, a political consensus on national issues, such as the need to build more mega dams, or smaller ones, or no dams at all — as some would argue that dams contribute to flooding. The media needs to devote prime time to discussions on building water reservoirs to conserve water during the dry spells, constructing more canals or drains to disperse floodwaters, or enforcing zoning regulations to prevent future construction in floodplains as well as better population management.
We also need to strengthen our democratic institutions to create strong incentives for the elected representatives to be more engaged and vigilant in dealing with natural calamities; to bolster local government institutions right up to the union and village council level; and revive district assemblies to hear people's ideas, opinions, and solutions. Of foremost importance at this time is the need for our elected representatives to spend more time with their affected constituents, collectively engaging with them in relief and rehabilitation efforts, and utilising local wisdom to chalk out adaptive and preventive strategies for the future.
The writer is a public health specialist who works for the Population Council Islamabad.
This article was originally published on The Express Tribune.
Views in this article are author's own and do not necessarily reflect CGS policy.
Comments