Big Money is Choking India's Free Press — and Its Democracy
Somdeep Sen | 09 January 2023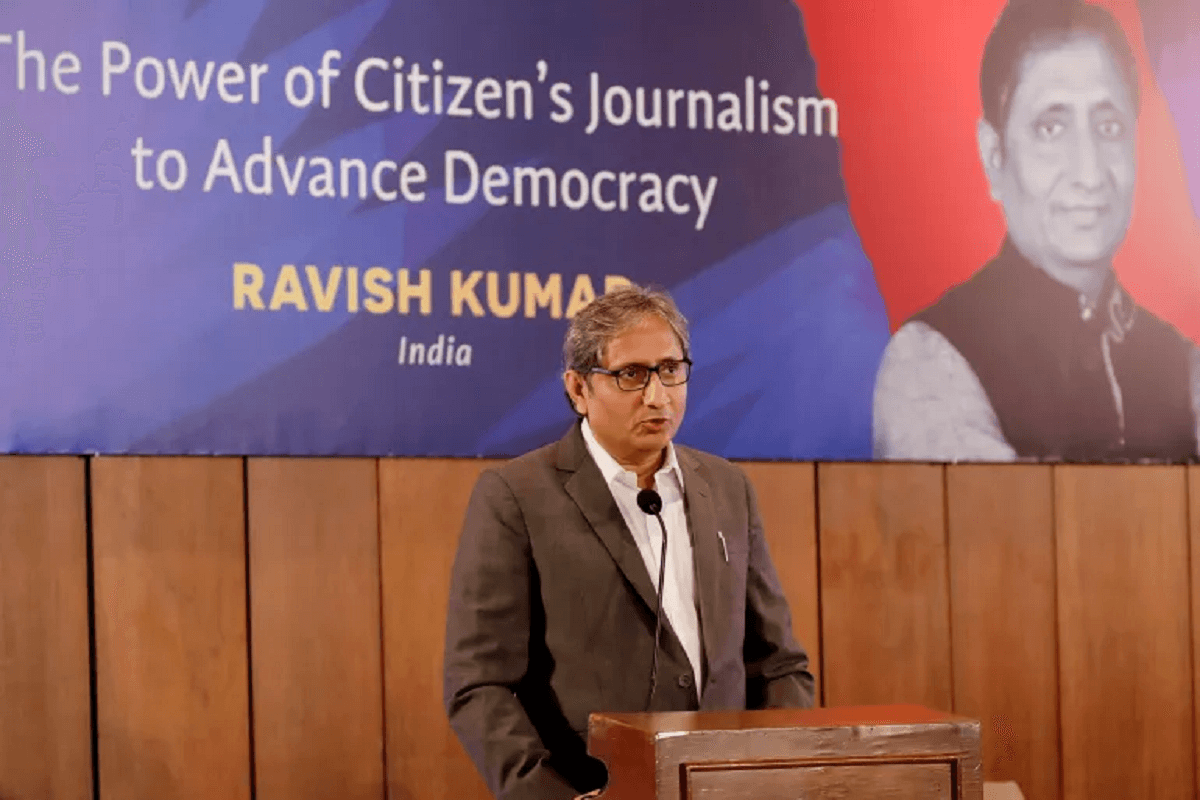 ---
The recent resignation of anchor and Modi critic Ravish Kumar underlines how monopolisation is threatening Indian media.
New Delhi Television Ltd (NDTV) — the country's oldest private broadcaster — at the end of November, it was a grim reminder of the vanishing independent news media landscape in the world's largest democracy.
It was no ordinary departure. Kumar had been a popular voice on NDTV for a quarter of a century and is known for his fearless, hard-hitting reporting and willingness to take on those in power. Of late he has criticised other news outlets for taking a stance explicitly in favour of Prime Minister Narendra Modi's government and for stoking communal discord between Hindus and Muslims.
Yet Kumar felt compelled to quit after the world's third-richest man, Gautam Adani, became the majority shareholder of NDTV. Adani is considered close to Modi, who used the tycoon's aircraft for campaigning ahead of the 2014 national election. Since 2014, when Modi came to power, Adani's wealth has jumped from $7bn to $110bn.
Adani has insisted that NDTV under his ownership will retain its independence to call out the government when it has "done something wrong". But the worries about his takeover of one of the few Indian TV channels seen as brave enough to challenge the Modi government reflect broader fears centred on a question that journalism around the world has been grappling with: what happens when the ownership of platforms meant to protect free speech is concentrated in the hands of a few elite businesspeople?
Or as Kumar said: "How can a channel, bought by a corporat[ion] whose success is seen to be linked to contracts granted by the government, now criticise the government? It was clear to me I had to quit."
A global problem
Corporate monopolisation of media has increasingly been under scrutiny in the United States. In 2017, Bernie Sanders wrote of how Comcast, News Corp, Disney, Viacom, Time Warner and CBS — just six companies — owned 90 percent of the media in the country. Forbes wrote in 2016 that 15 billionaires owned all major national newspapers, including The New York Times, The Wall Street Journal and The Washington Post.
In the United Kingdom, the Media Reform Coalition has described "concentrated ownership" in the sector as a "significant problem for any modern democracy". In 2015, 71 percent of the UK national newspaper market was dominated by three companies – News UK, Daily Mail Group and Reach. By 2019, their market share had grown to 83 percent, and by 2021, to 90 percent.
Some countries have regulatory measures in place to curb media monopolisation. In Germany, for instance, no single company can control "more than 30 percent of all TV audiences".
But the landscape varies across Europe: In Italy, the holding company Fininvest, which is controlled by the family of former Prime Minister Silvio Berlusconi, owns all three of the country's main TV channels as well as the nation's largest publisher for newspapers and books.
India's economic boom since the 1990s has spawned a fast-growing media industry, with a market size expected to grow from $21.5bn in 2021 to $54bn in 2026. This has resulted in a news media landscape that now boasts more than 100,000 newspapers and 380 news channels. Add the rapid growth of internet and social media usage, and a wide variety of news platforms ought to be available to the Indian consumer.
But like in the West, Indian media too is increasingly owned by a select few corporations. The first warning bells were sounded a decade ago when Reliance Industries – India's largest company in terms of revenue – entered the media sector.
In 2011, the Indian parliament passed the Cable Television Networks (Regulation) Amendment Bill that made "digitisation of cable television across the country mandatory in three years". But as Arvind Rajagopal, professor of media studies at New York University pointed out at the time, the bill also effectively paved the way for concentrated corporate control of media since "the largest cable service providers [were] already owned by broadcasting companies".
In January 2012, Reliance — headed by Mukesh Ambani, the world's eighth-richest man — invested in the heavily debt-ridden Network18 media group. The result was the creation of India's largest media conglomerate which included a bouquet of general news and business channels in English, Hindi and several regional languages. Journalists and analysts raised concerns over how this would impact the media coverage of a company, Reliance, whose decisions influence the nation's economy. In 2014 Reliance took complete control of Network18 in a hostile takeover. Rajdeep Sardesai, the editor-in-chief of the company's flagship channel CNN-IBN, resigned. In his farewell email, he wrote: "Editorial independence and integrity have been articles of faith in 26 years in journalism and maybe I am too old now to change!".
Today, the ties between big business, politics and Indian media extend beyond any one company. Zee Media Corporation, another influential TV network, is part of the conglomerate Essel Group, which is led by Subhash Chandra, a former member of the upper house of the Indian parliament. His candidature was supported by Modi's Bharatiya Janata Party (BJP).
A 2019 report by Reporters Without Borders found many other similar examples. Odisha TV is owned by the family of Baijayant Panda, who is the BJP's national vice president and spokesperson. News Live, one of the most popular TV channels in India's northeast, is owned by Riniki Bhuyan Sarma, wife of the BJP chief minister of the northeastern state of Assam, Himanta Biswa Sarma.
'Godi media'
Ravish Kumar coined a term that captures this unholy mix of news, money and politics: Godi media. "Godi" means lap. Godi media refers to the lapdog nature of the many pro-establishment mouthpieces that the Modi years have birthed. And looking at how the mainstream Indian media has celebrated events like the BJP-led demolitions of the homes of Muslim activists or criticised farmer protests in 2021, it's hard to get away from a sense that Kumar is spot on.
Meanwhile, amid a spate of attacks on journalists and government critics, India is slipping in the World Press Freedom Index, where it is now ranked 150 among 180 nations.
It's important to cling to the hope that the tide will turn. Yes, good journalism needs money. But it also needs freedom. If media monopolisation cuts out critical voices like Kumar's, it can never be healthy for Indian democracy.
Somdeep Sen is Associate Professor of International Development Studies at Roskilde University in Denmark. He is the author of Decolonizing Palestine: Hamas between the Anticolonial and the Postcolonial (Cornell University Press, 2020).
This article was originally published on Al Jazeera.
Views in this article are author's own and do not necessarily reflect CGS policy.
Comments