Let's Vote 2018
23 March 2020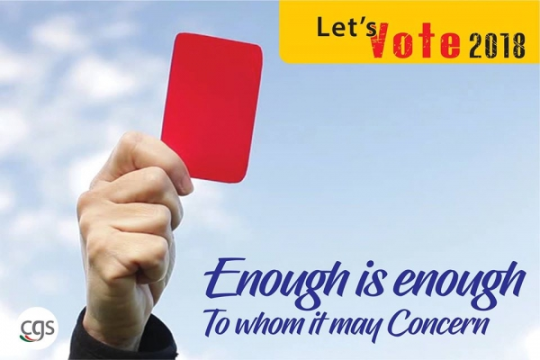 lv
---
Let's Vote 2018
Casting Vote is a democratic right for every citizen of a democratic country like Bangladesh. After achieving independence from Pakistan in 1971, Bangladesh has gone through ups and downs in term of democracy. After the deadly incident of 15 August 1975, military dictators ruled the country for a long time. The democracy had reemerged in 1991 after a long and combined demonstration by political parties of Bangladesh. However, Bangladesh saw a new army-backed 'caretaker government' in 2007 and democracy resumed much later - on December 29, 2008, two years after the Election Commission was reformed under the 'caretaker government'. Bangladesh Awami League assumed the power with a landslide victory in the 9th national election and Bangladesh Nationalist Party (BNP) was the opposition party in the parliament. The 10th national election was held on 5 January 2014 under Bangladesh Awami League which was boycotted by the opposition Bangladesh Nationalist Party (BNP)-led 18 party alliance. Bangladesh Awami League won the election with two-thirds majority and with very little opposition. Out of 300 seats, 153 members were elected uncontested. Bangladesh Nationalist Party (BNP)-led 18 party alliances kept opposing the election and kept the demonstration on the road which was the cause of several deaths in the country. Due to these events and lethal demonstrations, people lose their interest to casttheir vote, especially the youth. Centre for Governance Studies (CGS) took several initiatives to aware the youths and encourage them to cast their vote.These initiatives were taken before the 11th national election of 2018.
Online Survey on 11th national election:
An online survey had been conducted among the mass to evaluate the situation. In the survey, 200 participants participated and gave their valuable opinion on the 11th national election of Bangladesh. The report of the survey is yet to publish.
Social Media awareness programs:
Centre for Governance Studies conducted several social media awareness programs on Facebook, Twitter, Instagram, and YouTube. The programs included slogan cards published on Facebook, Twitter, and Instagram, Short videos on the 11th National election by Civil Society and Academicians. A debate on 'Why should I cast my vote?' was arranged where students participated in the debate. 5 seminars were arranged on the issue.
Slogan Cards:
Centre for Governance studies circulated approximately 100 slogan cards on the 11th national election to spread awareness among the mass. The slogan cards were circulated on social media namely on Facebook, Twitter, and Instagram. 'Keep Calm and vote wisely Vote!','To exercise your freedom', 'Your voice your Vote', 'Vote: to exert your voice', 'Vote to secure your future', 'Vote to ensure your Right to work', 'No Vote, No right to govern', 'Vote is not for sale but for your ownership of the state', 'Protect yourself from fake news', 'Vote for women's Right','Avcbvi †fvUAvcbviwm×všÍ','†fvUvwaKviiÿvqGKZve× _vKzb', '†fvUweµq‡hvM¨ bq, †fv‡UiAwaKvicÖwZôvKiæb', Ôm¤úªxwZievsjv‡`kÕPvB, 'mvgvwRK †hvMv‡hvMgva¨‡g N"Yv I ¸Re m¤ú‡K© mRvM _vKzb', 'DrmegyLicwi‡e‡k †fvUw`‡ZPvB', 'cÖZxKbq, †hvM¨Zv †`‡L †fvUw`‡ZPvB', etc. are the slogans that were used in the slogan cards.
Shorts videos on the National Election 2018 by Civil Society and Intellectuals:
Centre for Governance Studies (CGS) made several short videos on the importance of casting vote to aware of the youth and the mass. These videos were posted on Facebook, Youtube, Twitter, and Instagram. These videos were made on the commentary of prominent academicians, political analysts, and, civil society.
Debate:
A debate on 'Why should Icast my vote?' was arranged by CGS and approximately 50 students and youths participated in the event. The debate was moderated by Professor Shahab Enam Khan, Department of International Relations, Jahangirnagar University, Assistant Professor Dr. Parvez Karim Abbasi, Department of Economics, East West University. The recorded video of the debate later posted on YouTube and Facebook.
Seminars:
Centre for Governance Studies arranged 5 seminars on 'Let's Vote 2018' where approximately 500 participants attended. The seminars were addressed by Academicians, Politicians, Researchers, Security and Defense Analyst, Retired Military Personnel, Civil Society, and Media Personnel, and others and shared their opinions on the 11th national election. "Can People Vote freely?", "Media Engagement for Fairer Elections", "The Challenges of Electoral Integrity in Bangladesh", "Electoral Politics and People's Right to Vote", "Participation and Inclusion: Why Young, Women & Minority Should Vote In General Elections"were the tittle of the seminars.
Powered by Froala Editor
Comments