COVID-19 & New Border Order
19 July 2020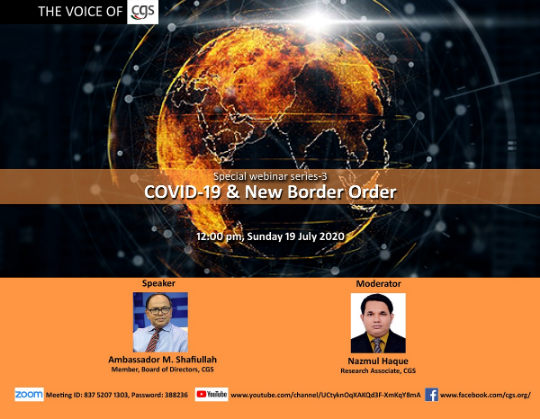 ---
The Centre for Governance Studies (CGS) is a non-profit independent think-tank. The Centre is established to address the challenges for Bangladesh in coping with the rapidly changing national and global scenarios. The Centre has closely been observing the changing situation during the pandemic and publishes COVID-19 related analyses and situation update. To discuss the current issues, the Centre has initiated a special webinar serious titled 'The Voice of CGS' where CGS's scholars expressed their concerns and discussed the issues.
Under 'The Voice of CGS' special webinar series, the Centre organized a webinar titled 'COVID-19 & New Border Order' on Sunday, 19 July 2020. The webinar was started at 12:00 pm and it was ended at 1:30 pm. Former Ambassador M Shafiullah was the keynote speaker. M Shafiullah is also a member of the Board of Directors of CGS. In this webinar, he spoke about different issues including the COVID situation, India-China, India-Nepal Conflict, and the Rohingya Crisis. While speaking on COVID Situation he said, Covid-19 created a new world to which we are not familiar. Every country is trying to tackle this situation in its own way.
"WHO is providing guidance and protocol but in Bangladesh, people are not following the guidance according to the instruction. They are not concerned at all", he added. He also said that the Government cannot control this situation if we do not support them by following the instructions given by the government and health experts. He also mentions that Bangladesh is facing an image crisis because of mismanagement and the fake COVID certificates case. "Bangladesh became a global news headline because of these incidents. While the rest of the world is fighting against corona, our fight is against corona and corruption. There is no such example in the world of committing fraud in pandemic situations except Bangladesh", he stressed. While answering a question on the unemployment situation he said, current unemployment situation should be considered as seasonal unemployment. He believes this situation will be recovered soon. "Rohingya is one kind of time bomb for Bangladesh", he said. We are seeing that India does not have that much influence over Myanmar. Though China has a good relationship and influence over Myanmar, Ambassador M Shafiullah believes China is the key player here and they can help us in this regard. "Bangladesh is trying to improve its relationship with China and it's a good initiative", he said.
He also spoke about the ongoing conflict between India-China and India-Nepal. He said, "India and China share one of the longest borders in the world and most of them are unsettled. It's tough to predict the political situation of this region. USA's interest over this region is now directly connected to China, and India is shifting from non-ally policy to the American side. "All these changes are making regional politics unpredictable. In the case of India-Nepal, they have a historical relationship and they share the same religious views as well but they have cultural differences. Nepal and India share an unsettled border and China has a strong influence over Nepal and they are baking up Nepal in this conflict with India", he said.
Ambassador M Shafiullah also said that the peaceful rise of china is a blessing for south Asian Countries because India was known as a big brother to those countries and they used to do irrelevant interference in the internal matters of those countries. However, now China is playing an active role in this region which is reducing Indian autocratic influence over the region. He also said that every country should take all the necessary steps to protect its sovereignty, nationality, and self-respect.
The Webinar was moderated by Nazmul Haque, Research Associate, CGS.
Comments