Official Launch of JGSD
12 September 2020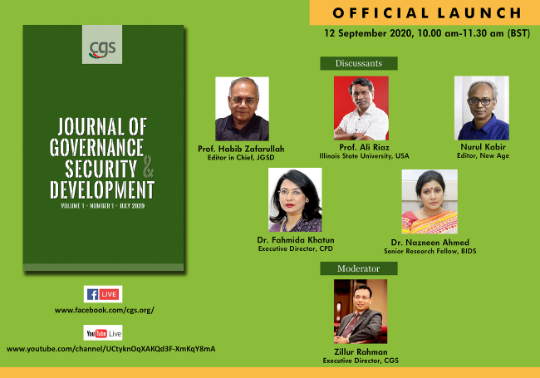 ---
Journal of Governance, Security & Development (JGSD) is a double-blind peer-reviewed journal published by the Centre for Governance Studies (CGS) biannually. This Journal is dedicated to the exploration and understanding of the three inter-relevant issues—'Governance,' 'Security', and 'Development,' both from ideational and practical standpoints. Each of these has an association with and implications for the other two, and their impact on society, state, and citizens in the globalized world order is deep and pervasive.
The Centre has officially launched the first issue of the Journal of Governance, Security & Development (JGSD) on Saturday, 12 September 2020. The launching program was conducted virtually and the discussants were presented through Zoom Meeting App (A cloud-based video communications app) which was also live-streamed on CGS's Facebook page and YouTube channel. The event was moderated by Zillur Rahman, Managing Editor of JGSD and Executive Director of CGS. The discussants of the event were Dr. Habib Zafarullah, Editor in Chief of JGSD and Adjunct Professor of Sociology at the University of New England (UNE), Australia, Dr. Ali Riaz, Member of the Editorial Board of JGSD, and Distinguished Professor of Political Science at Illinois State University, USA, NurulKabir, Editor, New Age, Dr. Fahmida Khatun, Member of the Editorial Board of JGSD and Executive Director of Centre for Policy Dialogue (CPD), and Dr. Nazneen Ahmed, Senior Research Fellow, Bangladesh Institute of Development Studies (BIDS).
Dr. Habib Zafarullah, Editor in Chief of the Journal addressed the program as an opening speaker. In his statement, he said that in today's academic discourse rhetorical writing is gradually being replaced by analysis that is detached dysfunction, and unusual. He mentioned that this journal is about to explore the inter-relevant and inter-development in today's ever-changing uncertain environment. In his statement, he stated that the essential factors for effective development are governance, security, and practice of open Government. He also mentioned that the launch of this journal will give the academician and researchers a platform to analyze, criticize, and praise relevant issues confronting the nations of South Asia. He added that reflective and intellectual discourse on governance security and development issues will contribute to enhancing the knowledge base of individual groups and organizations. "One of the distinctive features of this journal is open access", he added. "People are allowed to copy text, searching, data sourcing, and other forms of processing and analyzing". He hopes that this Journal will get intellectual support from universities, research organizations, and Institutions.
Dr. Naznin Ahmed started her speech by appreciating the Center for Governance Studies for the fantastic works in recent times. She said this journal will cover more than the governance. But she is expecting that the journal will concentrate more on governance because we need good researches and analyses in this issue on a regular basis. And it's very important for our journey towards developing country to a developed country. She also said that communicating with the gist of the findings with policymakers will be a good attempt for CGS. She is hoping that this journal will publish good quality analyses and papers while maintaining the required quality.
Dr. Fahmida Khatun said that Bangladesh has done significantly well in case of social and economic development for the last few decades and in her writing, she tried to describe the growth narratives of Bangladesh and the challenges of governance, institution, and corruption. She also talked about the emerging of Think tanks in Bangladesh in the post-'90s. She added that after the democratic transition through the national parliamentary election in the '90s leading thinkers of the country felt very strongly that there was a need for under-taking socio-economic and political development since then social research has expanded. While talking about the quality of the journal, she mentioned that there is some sort of indifference to what is produced in the southern countries. In a way, these are neglected or under-heard to the global intellectual platforms. From that point of view, bringing out a quality journal from the southern part of the world is very important so that it can be compared to the others.
Dr. Ali Riaz said in his statement that there has been a significant number of journals in Bangladesh and elsewhere. However, there is a gap which needs to be filled in. And the gap is from Bangladesh the voices that need to be put into the global stage to talk about South Asia Perspective. He also said that looking into the various dimension of development in a border sense of the journal, Development is not devoid of the governance which also does not disconnect from security. Security governance and development are so much interconnected that we cannot simply decouple or disengage them. And this connection is what the journal's first idea came out. He is hoping that the journal will become a platform for the conversation between governance, security, and development so that they do not ignore each other completely. He mentioned,"We want to bring the voices that are in the margin but can contribute and should be able to contribute in a given opportunity. In last decades, South Asia has become a major area of focus in global politics, economy, and many other aspects". He said,"We are going to talk about the limitations, challenges of the governance, and all other aspects by South Asian academics, politicians, policymakers, and researchers". He strongly believes that South Asia needs to be represented, highlighted, understood, and put forward on global platform.
In conclusion speech Dr. Habib Zafarullah said that this journal will be an open platform for those who are in margin, those don does not get access to this kind of journal.There should be more comparative analysis between the countries of South Asia in different issues. He believes that this journal will create an impact on the global stage.
Comments