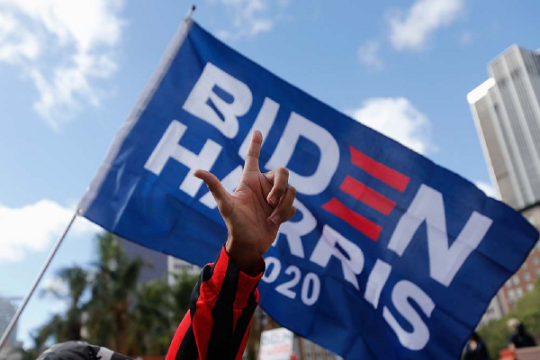 ---
Biden will tread lightly on the rights issue in Kashmir, but that might be a blemish on his foreign policy agenda
One of the core foreign policy messages telegraphed by president-elect Joe Biden over the course of his campaign is that he will fight hard to strengthen democracy and human rights at a moment when both are under constant assault. This means the incoming Biden administration can be expected to put India's policies in Kashmir under the microscope.
Due to strategic considerations, however, a Biden White House will likely be restrained in its criticism—a move that would benefit a crucial US-India partnership, but also risk undercutting the credibility of a key pillar of Biden's foreign policy.
All indications point to Biden flagging a Kashmir issue that New Delhi doesn't want outside actors, including close partners, touching with a 10-foot pole. In remarks at the Hudson Institute think tank in Washington this past summer, Antony Blinken, a top Biden campaign foreign policy adviser who may receive a senior post in his boss's administration, said there are "real concerns" about some Indian government actions, "particularly in cracking down on freedom of movement and freedom of speech in Kashmir…. You are always better in engaging with a partner…when you can speak frankly and directly in areas where you have differences."
Additionally, a campaign document released in June entitled "Joe Biden's Agenda for Muslim-American Communities" declared that "the Indian government should take all necessary steps to restore rights" for Kashmiris, and that "restrictions on dissent, such as preventing peaceful protests or shutting or slowing down the Internet, weaken democracy".
The focus on Kashmir in Biden's White House, however, should not be overstated. Expect it to be limited in scope and mostly handled privately, with any public criticism taking on subtle rather than sharp tones—along the lines of Barack Obama's gentle call-out of India's religious freedom record during a speech in New Delhi in 2015.
Keep in mind that the Biden campaign's negative comments about Kashmir—and those of Democrats more broadly over the last year-plus—have largely focused on the draconian conditions imposed in the region after India's revocation of Article 370. With few exceptions, they haven't criticised the Article 370 move itself, or Kashmir's broader territorial status. This is what we should also expect from the incoming Biden administration: limited, narrowly focused criticism around the rights situation in Kashmir, and not much else beyond that.
The reason is simple: There is a strong bipartisan consensus in Washington that the US-India partnership is a strategic imperative. Biden won't want to rock the boat with India by invoking the Kashmir issue too frequently or intensely. Biden—a longtime friend of India and strong supporter of US-India ties—is not about to defy decades of history and a strong bipartisan consensus, and risk squandering what US policymakers believe to be America's most important partnership in South Asia.
Not surprisingly, the vice president-elect appears more inclined to emphasise the strengths of Indian democracy than its shortcomings. Consider Biden's own words: "We need to fortify our collective capabilities with democratic friends beyond North America and Europe by…deepening partnerships from India to Indonesia to advance shared values in a region [Asia] that will determine the United States' future."
However, by not pushing India harder on human rights, Biden risks sustaining a blow to his foreign policy agenda.
For someone like Donald Trump, who doesn't use foreign policy as a vehicle for moral crusades, giving India a pass on its human rights record in Kashmir was perfectly predictable and consistent with his foreign policy. And it's not just Trump. Cold, hard interests, not morals, drive international relations. Outrage is selective. America takes a stronger stand on behalf of Uighurs, a community oppressed by a US foe, than it does on behalf of Kashmiris and Palestinians, who suffer at the hands of America's friends.
But if you're a president who makes advocacy for democracy and human rights a central focus of your foreign policy, and yet you keep in relative check your comments about the plight of Kashmiris, then the inconsistencies inherent in that foreign policy come into sharp relief.
And that's not a good look for a president determined to win back credibility and trust from an international community that soured on America during the Trump years.
Michael Kugelman is senior associate for South Asia at the Woodrow Wilson International Center for Scholars in Washington, DC.
This article was originally published on Outlook Magazine.
Views in this article are author's own and do not necessarily reflect CGS policy.
Comments