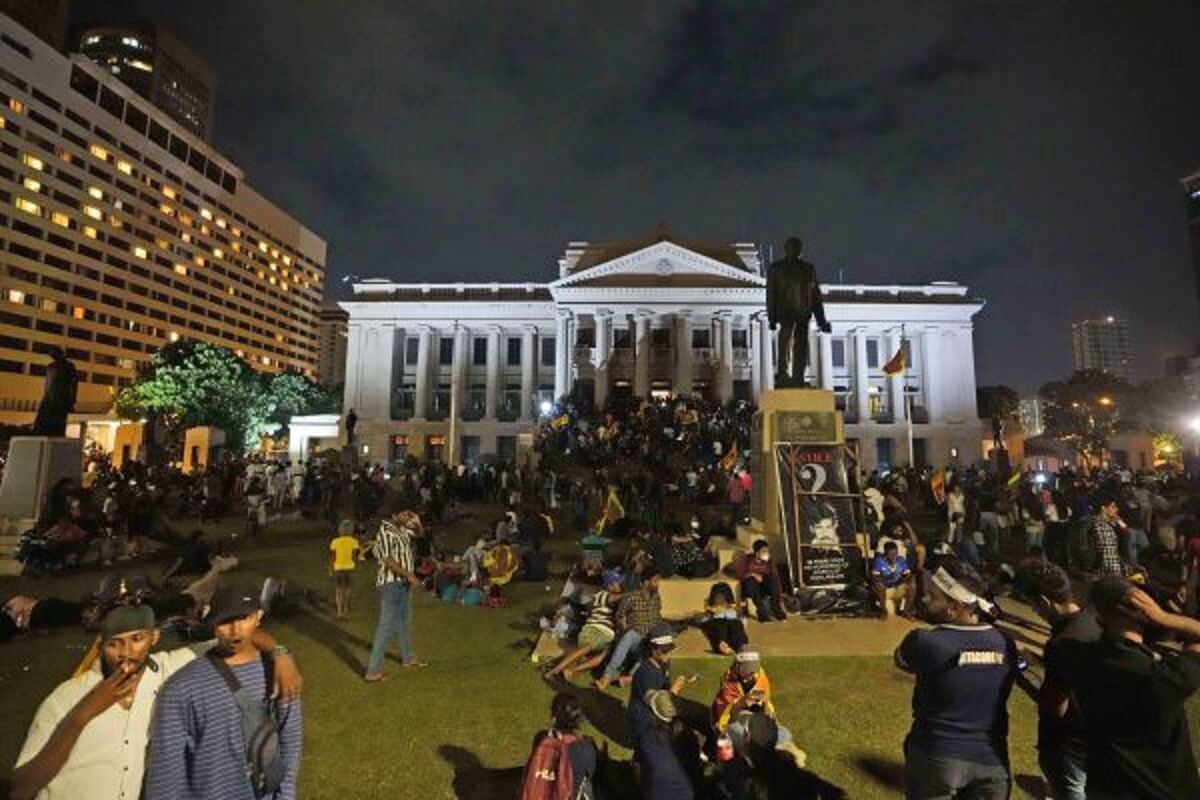 ---
On the first anniversary of the people's uprising, the spirit of dissent among Sri Lankan citizens remains strong.
Sri Lanka marked the first anniversary of the historical people's uprising known as "Aragalaya," meaning struggle, on July 9. A year ago, President Gotabaya Rajapaksa fled the country, then resigned from abroad, following protests of an unprecedented scale from Sri Lankan citizens.
The uprising, sparked by the former government's mismanagement of the country's economy, ended the Rajapaksa family's stranglehold over power. In addition to Gotabaya, the protests forced his brother, Prime Minister Mahinda Rajapaksa, out of office.
As the first anniversary of the Aragalaya unfolded, the spirit of dissent remained strong among Sri Lankan citizens, who continued to demand justice. They commemorated their courageous stand against the former government's crackdown on their voices ayear ago. However, despite a change in leadership, the nation still grapples with deep-rooted issues of debt, inflation, economic instability, and human rights violations.
Shabeer Mohamed, a freelance journalist and activist from Colombo, played a key role in the initial protests back in March 2022, when he was studying. Mohamed was left without power and electricity for 12 hours.
Mohamed related the protests' humble beginnings in an interview with The Diplomat: "Back on March 1, 2022, me and five of my friends were the first in Sri Lanka to start a silent protest near Colombo. We held three boards saying that we don't have power and we don't have lights, so we were unable to do our work."
Inspired by Mohamed and his friends' brave act of protest, other Sri Lankan citizens were motivated to initiate their own demonstrations. They took to the streets, displaying signs and placards in their respective towns, amplifying the collective voice of dissent. Some individuals even chose to stage protests in close proximity to the president's residence. As a result, the number of protesters swelled, signalling the growth of the movement as more people felt compelled to speak out against President Gotabaya Rajapaksa's mishandling of state affairs, which had started to adversely impact the lives of ordinary citizens.
Mohamed said that the continuing protests culminated in the events of July, but it was not an easy road. He recalled how protesters faced severe crackdowns under Rajapaksa's watch.
The police used gunfire and tear gas against protesters, he recounted, and violently arrested several people, causing injuries. "Even though the media didn't cover it fully, I saw what the police had done to protesters. There were 15 people who were arrested and some were hospitalized," he said.
At the time, Mohamed said he witnessed many lawyers who volunteered their time to come down to the police station and ask what the reason was for arresting the protestors.
"I was traveling with the lawyers all day, and in the evening we finally received the judgment that allowed the 15 protestors to have bail," he said.
On April 3, 2022, all 26 members of the second Gotabaya Rajapaksa cabinet chose to resign amidst the mounting protests, with the exception of then Prime Minister Mahinda Rajapaksa. As the protests gained momentum, their intensity led to the removal of officials and ministers, including members of the Rajapaksa family who held positions in parliament. Subsequently, Mahinda Rajapaksa made the decision to step down, paving the way for Ranil Wickremesinghe to assume the role of prime minister.
A pivotal moment unfolded in July, marking a historic triumph for the people of Sri Lanka. Protesters occupied the President's House in Colombo, compelling Gotabaya Rajapaksa to flee the country. Rajapaksa soon resigned, and on July 20, Parliament elected Wickremesinghe as president.
The triumph, however, was only the beginning of a long and painful recovery for the country. Reports indicated that it would take until 2026 to fully recover from the economic setbacks incurred during the previous government's tenure.
Nevertheless, many Sri Lankan citizens, including Mohamed, are frustrated by the reality that significant socioeconomic issues continue to plague the country. This view is shared by human rights activist Shreen Saroor. She emphasizes that marginalized and impoverished communities on the island bore the brunt of the former government's actions, where a culture of "impunity, corruption, and war crimes had become the norm."
"One needs to understand that the Sri Lankan crisis is not simply because of debt but primarily because of governance failure," Saroor told The Diplomat. "This country is not going to recover permanently by artificially fixing the inflation and dollar crisis and going on an undemocratic path."
Saroor pointed out that the cost of living is still high in Sri Lanka and "essential items are so expensive," which have forced some families to skip meals.
"The government's economic reform is going to further target poor communities… Labor migration is sky-rocketing and women in many thousands are migrating to the Middle East as domestic workers without any protection."
Fathima (a pseudonym), a single mother of three from a rural town near Kandy, said that she felt compelled to skip meals to care for her children.
"Sometimes I cannot afford to eat myself but only keep enough for my children. This was happening with the former government but there is still no solution," she said. "We still suffer, we feel forgotten, and I am not sure what to do."
Fathima's poignant words shed light on the harsh reality faced by many Sri Lankan citizens, particularly those from marginalized backgrounds. A year after the historic protests achieved their stated aim of ousting the president, countless individuals are still forced to make difficult choices.
"Inflation coupled with real wages falling have meant people have stopped eating, and that is the most significant indicator of this crisis: that people are skipping meals," Swasthika Arulingam, an attorney of law and trade unionist, told The Diplomat. "People are changing their daily routine so that they can eat less meals per day to save money… There have been growing waves of children having stunted growth and fainting at schools."
Arulingam argued that the government wants to "paint the picture that everything is stabilizing," but "on the ground things are very dire."
During last year's protests, Arulingam played a key role representing protesters in court and at the police stations when people were unjustly arrested or intimidated by police. She also participated in the protests calling for people's rights and was responsible for mobilizing workers and organizing a two-day strike in the lead up to July 9, 2022.
Arulingam believes that an "economic crime on the Sri Lankan people is being committed" by the Sri Lankan president, the International Monetary Fund (IMF), and international creditors in the name of paying back the debts owed. Sri Lanka's total debt is reported to currently exceed $83 billion, of which $41.5 billion is foreign and $42.1 billion is domestic.
"The IMF and the government are only worried about how to pay back the debt, so even if people die of starvation, due to lack of food, due to non-existent essential medicine, the entire economy is being structured towards paying back that debt to international creditors," said Arulingam. "But the money which was borrowed was never used for the benefit or the welfare of the people of Sri Lanka."
Baazir Rahman, the dissemination manager at People's Rights Group Sri Lanka, is also concerned that no lasting solutions have been implemented.
"The Sri Lankan government's inability to find a solution to the country's debt problems can be attributed to a combination of factors," Rahman told The Diplomat. "First, persistent economic mismanagement, fiscal indiscipline, and corruption have hindered effective debt management and resource allocation."
Rahman believes that the mismanagement resulted in "excessive borrowing, inefficient use of funds, and a lack of transparency." In addition, the government has faced challenges in generating sufficient revenue due to a flawed tax system, inadequate collection mechanisms, and a large informal economy.
"External factors like global economic conditions and geopolitical uncertainties have further strained the economy. The instability in the government cabinet has compounded the issue by hindering consistent economic policies and creating uncertainty for investors," Rahman concluded.
He also believes that racism-related issues have affected the government's accountability in the international arena, impacting its reputation and ability to secure international support. He stressed the importance of implementing "sound fiscal policies, improving transparency," and diversifying the economy.
According to Rahman, addressing these factors, along with ensuring "political stability" and dealing with racial tensions, will lead to a sustainable economic future for the people of Sri Lanka.
Tasnim Nazeer is an award-winning journalist and Universal Peace Federation Ambassador for Peace.
This article was originally published on The Diplomat.
Views in this article are author's own and do not necessarily reflect CGS policy.
Comments