Modi's 'Tiger Warrior' Diplomacy Is Harming India's Interests
Hindu nationalist attitudes are alienating other nations.
Kunal Purohit | 30 August 2023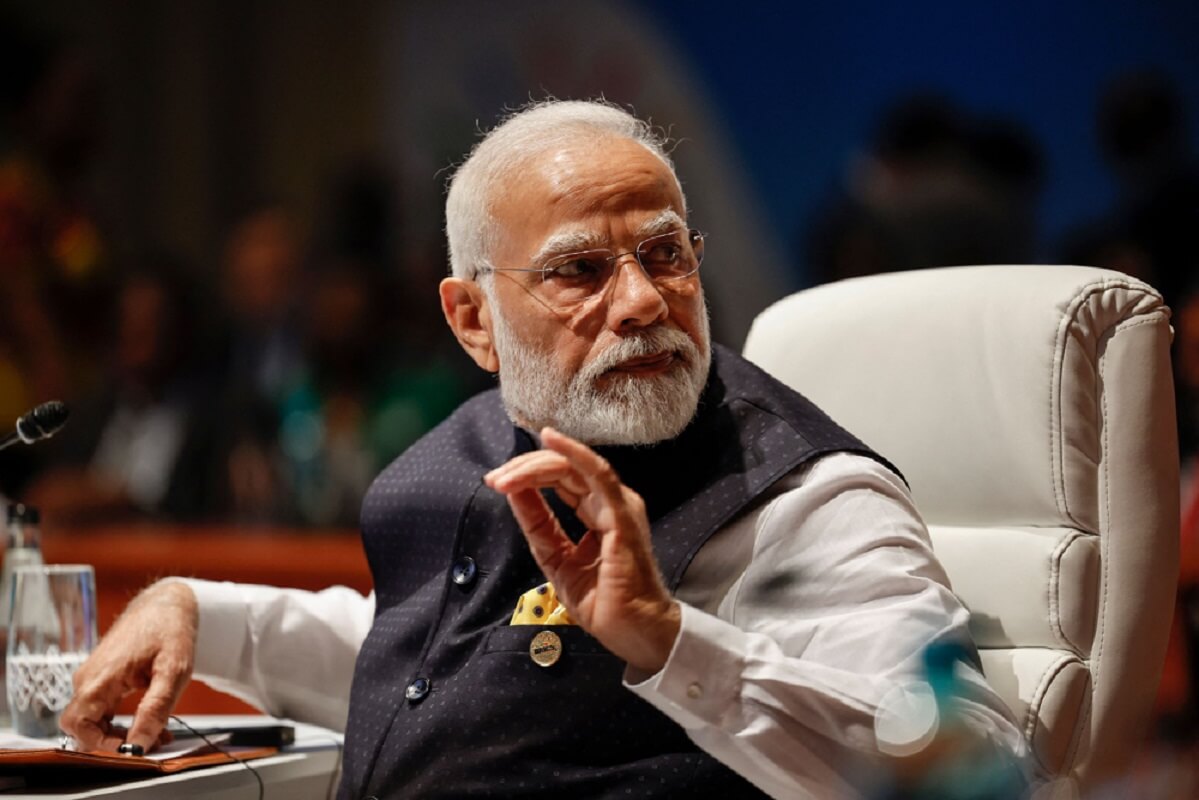 ---
Even as Indian Prime Minister Narendra Modi was set to land in Paris on July 13 for his state visit last month, the European Parliament's plenary session in the French city of Strasbourg was about to deliver an embarrassing blow to his credibility.
The parliament was debating a sharply worded resolution around the ongoing ethnic conflict in the northeastern state of Manipur, which started in May. Manipur is ruled by Modi's Bharatiya Janata Party (BJP)—but Modi had neither visited the region, nor had he publicly made any appeal for peace when the resolution came up.
The resolution noted that "intolerance towards minority communities" had contributed to the violence that had claimed some 120 lives and left more than 50,000 displaced. It stopped short of naming the Modi government, but barely disguised who it sought to blame for the violence, saying there "have been concerns about politically motivated, divisive policies that promote Hindu majoritarianism in the area." The resolution was approved by the parliament.
Even as Modi kicked off his diplomatic engagements in Paris, the Indian Ministry of External Affairs had to scurry to offer a response. Predictably, ministry spokesperson Arindam Bagchi called the resolution an "interference in India's internal affairs" and described it as "unacceptable" since it "reflects a colonial mindset."
This isn't a one-off.
India's diplomacy is increasingly courting controversy, thanks to the Modi government's Hindu nationalist agenda. The government's right-wing ideological beliefs are increasingly driving the country's actions inside and outside India. While some diplomats resist the push, others—including the country's own foreign minister—adopt it. We might dub them the "tiger warriors" after the infamous "wolf warrior diplomacy" of India's neighbor, China. Increasingly, there is pushback—from parliamentary resolutions to full-blown protests, from subtle digs by friends to whispers in the corridors of foreign governments.
The BJP's ideological parent, the Rashtriya Swayamsevak Sangh, openly propagates Hindu supremacy over other religions and has reiterated its belief that India is a Hindu rashtra, or a Hindu nation, in defiance of the country's secular constitution. This notion of Hindu supremacy is causing a widening tear in India's secular fabric—hate crimes against religious minorities such as Christians and Muslims are increasingly commonplace, and hate speech against them is even more rampant.
Just weeks ago, Indian diplomats had to douse diplomatic fires across the subcontinent after Modi inaugurated a new parliament building that featured a mural map of India, commissioned by the Modi government, that showed the country's borders stretching from Pakistan in the west to Bangladesh in the east, gobbling up Nepal and Bhutan. In case anyone had doubts, lawmakers from Modi's BJP lauded the mural for its representation of Akhand Bharat, a Hindu right-wing conceptualization and ideological goal of an undivided India.
India's neighbors were horrified at this casual trampling of their sovereignty. Pakistan protested. The Ministry of External Affairs said the mural was not depicting Akhand Bharat but "the spread of the Ashokan empire." The first to contradict this was, among others, Modi's own Parliamentary Affairs Minister Pralhad Joshi, who tweeted a photo of the map and said, "The resolve is clear—Akhand Bharat."
Foreign minister S. Jaishankar, now a frequent presence on Indian Instagram and YouTube videos for his brusque responses to criticism, swat Islamabad off in trademark fashion, saying he does "not expect Pakistan to understand."
The explanation was enough to set hyper-jingoistic social media feeds ablaze. But Kathmandu and Dhaka, traditional friends of New Delhi, were equally mortified. Both asked for explanations. Former Nepali Prime Minister Baburam Bhattarai warned that the mural issue would "stoke [an] unnecessary and harmful diplomatic row," with the potential for "further aggravating the trust deficit" between the two neighbors. In Kathmandu, Mayor Balen Shah, a young populist politician, cocked a snook at the mighty neighbor and published a map of "Greater Nepal" that included Indian territories. Under domestic pressure, Nepali Prime Minister Pushpa Kamal Dahal, on the eve of his India visit, said he would raise the issue with Modi. On his return, Prachanda said that even though the Modi government had "clarified" that it was a cultural map, "further study" needed to be done in the issue.
This mural controversy came just weeks after the United States made public that Modi's BJP and Hindu nationalist groups affiliated with it were propping up demands by Nepali Hindu groups to ditch Nepal's secular constitution and turn it into a Hindu state. The disclosure, made in the U.S. State Religious Freedom report launched by Secretary of State Antony Blinken in May, also recorded Nepali civil society actors saying that Modi's BJP could even be funding some of the organizations driving this demand.
India's domestic media, mostly submissive toward the Modi government, ignored the report, but foreign capitals have taken note. There is growing recognition that these instances are damaging India's standing globally even if few might be willing to say it aloud.
"The rise of Hindu nationalism within India will have an impact on India's global image, no doubt," said Aparna Pande, the Washington, D.C.-based director of the India Initiative at the Hudson Institute. She added that some of India's actions in the recent past have been "damaging" to its interests, especially in its immediate neighborhood.
"The ideology or the belief of the ruling party in Delhi has historically not been allowed to impact foreign policy. It did not matter if we had a socialist government or one that backed free-market policies, because foreign policy was insulated," she said.
This, though, is changing.
In 2019, the Modi government amended the country's citizenship laws to fast-track citizenship applications of non-Muslim refugees from the neighboring Muslim-majority countries of Afghanistan, Pakistan, and Bangladesh. Leaders from the BJP made statements, without any pushback from the party or Modi, that threatened to "send back" the "illegal Bangladeshi Muslims," referring disparagingly to the economic immigration, often undocumented, by Bangladeshis into India. In a rare show of its anger with New Delhi, Dhaka canceled scheduled visits by its ministers to India.
Local conflicts can play into the Indian government's fierce nationalism. Last year, violent clashes between newly arrived Hindu immigrants and Muslim residents rocked the English city of Leicester. Police investigations found, according to the Daily Mail, that Hindu nationalist "elements close to Mr Modi's Bharatiya Janata Party" were suspected to have played a key role in inciting them. The Modi government issued an unusually partisan response, condemning the violence and singling out "symbols of Hindu religion" as the target of the attack.
Five months later, in February this year, the Modi government unleashed a series of tax raids on offices of the BBC across multiple cities. The sudden raids came just weeks after the BBC released a documentary that investigated the role of Modi during the 2002 riots in his home state of Gujarat, which killed 1,000 people, most of them Muslims.
Ian Hall, a professor of international relations at Griffith University and the author of the book Modi and the Reinvention of Indian Foreign Policy, said the Modi government had been trying to tread a fine line by "sometimes using anti-Muslim language at home to mobilize voters while trying to maintain positive relations with Muslim states," he said. "There is no doubt that outbursts of anti-Muslim rhetoric and attacks on Muslims in India cause problems for New Delhi, both in the Muslim world and in the West."
These problems come in different forms.
In London, a foreign-policy expert who asked not to be named said there were many within the U.K. Foreign Office who were "petrified" and "worried" about doing business with Modi's government, but also acknowledged the "overriding strategic concerns" that brought them closer.
India's geopolitical significance as a counterweight to China in the region might ensure that criticism for its actions may not be too vocal, but that still won't give India a free pass, said Kira Huju, a fellow in international relations at the London School of Economics and Political Science.
"Western capitals are compelled by geostrategic imperatives in the Indo-Pacific to seek India's cooperation, but they may well have gone further in these pursuits, had they not harbored deep reservations about domestic developments in India," Huju said.
Some of this pushback was on display during Modi's recent U.S. visit.
Media reports said that despite Modi's insistence on not holding a press conference, the Biden administration pushed on after a marathon negotiation, ensuring that their guest did not leave without fielding questions from the press. Pande, from the Hudson Initiative, said the U.S. insistence on the press conference was a not-so-subtle message from the Biden administration.
When a U.S. journalist posed a question to Modi, infamous for not having addressed a single press conference in his nine years as PM, pro-Modi trolls, including Modi's own leaders, viciously attacked her online and highlighted her Muslim roots. The attacks were so vicious that the White House stepped in, called it "unacceptable" and saying that administration officials "absolutely condemn" the attacks, which the spokesperson said were "antithetical to the principles of democracy … on display during the state visit last week."
Huju said that even former U.S. President Barack Obama's CNN interview during Modi's trip, in which he implicitly criticized Modi's Hindu nationalist politics, was possibly "coordinated" by the Democratic administration in the White House to send a message across to the Modi government.
Closer to home, India's brand of politics is rankling friendly regimes, too.
Shahab Enam Khan, a Dhaka-based academic and a Fulbright professor at the U.S. University of Delaware, said that many within the Sheikh Hasina regime, traditionally close to New Delhi, were "uncomfortable" with the Modi government's actions.
This anger against Modi and his government spilled over onto the streets in 2021, when the Indian prime minister visited Bangladesh. Angry protesters clashed with security forces, leading to the death of at least 10 people, and dozens injured.
"In Bangladesh, Hindutva is also perceived to be one form of extremism. Hence, many here are questioning India's right to criticize other forms of extremism," Khan said. "In fact, many here are now comparing the centrality of religion in India's politics to the centrality of religion in Pakistan's politics," he said.
In Kathmandu, an anti-India brand of politics has been brewing afresh in the recent years, and the recent mural controversy only added to it. When Prachanda—the Nepali PM, an avowed lifelong atheist and leader of the country's Maoist movement—visited India in June this year and performed a six-hour long ceremony at the Mahakaleshwar Temple in the city of Ujjain, many in Kathmandu were left aghast.
"Many here felt that this temple visit could not have been Prachanda's choice; it was possibly hoisted on him by the Indian government," said a Kathmandu-based geopolitical analyst and chief of a think tank, who did not wish to be named.
Analysts warn that allowing the Hindutva agenda to fray New Delhi's traditional neighborhood ties could be dangerous for India.
"India's neighbors are its first layer of security. India and its neighbors are in a dependence relationship—you can push it a bit, but you can't break it," Pande said.
According to Pande, the "entire ecosystem created" by actors belonging to and aligned with Modi's BJP has "ensured that domestic politics now has greater impact on foreign relations with our neighbors than our foreign policy does."
This was evident even in Modi's visit to Johannesburg to participate in the BRICS summit between Aug. 22 and 24. The Daily Maverick, a local newspaper, reported that Modi "refused to get off his aircraft" on arrival, to protest the South African government deputing a cabinet minister to receive him.
The story went viral in India, shared widely by Modi's critics. Hours after it was published, the Daily Maverick tweeted that it had faced a "massive" cyberattack by Indian servers, ostensibly "to deny the people of India access to this story," and hence was blocking access to its website for Indian users. The government of South African President Cyril Ramaphosa rubbished the news report but did not react to the cyberattack. While the attackers did not reveal their identity, Modi's party has been known for its proficient use of information technology.
This brand of muscular nationalism will have damaging effects for India's foreign interests, analysts said.
Bangladesh's Khan agreed, pointing to a comment by then-BJP chief and now India's Home Minister Amit Shah referring to undocumented migrants from Bangladesh as "termites," which remains widely remembered in Dhaka.
"The rise of nonsecular narratives [and] the rise of religious nationalism will destabilize the region because you are fueling toxic nationalism across the region," Khan said. "It is inevitable that the more hyper-religious nationalism emerges in India, the greater political instability there will be in the region."
Huju, the London School of Economics fellow, said that even the nature of Indian diplomacy, through the Indian Foreign Service (IFS), was at stake as a result of the Modi government's assertive Hindu nationalism.
"Should there be a third BJP term, we are looking at lasting institutional changes to the way that the IFS is governed and culturally imagined," she said.
Kunal Purohit is a journalist in India.
This article was originally published on Foreign Policy.
Views in this article are author's own and do not necessarily reflect CGS policy.
Comments