Detailed Area Plan 2016-2035 for Dhaka Metropolitan Region
An Ecological Perspective
Manjur A. Chowdhury | 03 January 2021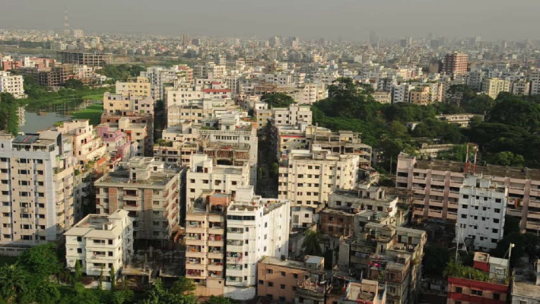 ---
The Detailed Area Plan (DAP) is a huge document with a massive amount of data regarding the future of Dhaka City. RAJUK initiated the planning work back in 2016. The document covers almost every aspect of the city from land-use plans to a demarcation of canals and flood flow areas. In this new plan, the city will be renamed Dhaka Metropolitan Region (DMR) and will cover 1528 sq km area. The planned city DMR will extend from Gazipur City Corporation in the north to Dhaleswari River to the south; from Shitalakkhya and Meghna in the east to Bangshi and Dhaleswari river to the west. The idea of this detailed planning work is to reshape the city into a polycentric mega city with a rapid and efficient interconnecting transport system. The planning horizon of DAP is up to 2035.
From an ecological point of view, this vast area in the planned city is diverse. There are agricultural lands, permanent water bodies, forest leftover, villages,townships, industrial areas, etc. There are also a number of canals in the city. However, over the years several canals were partly or fully filled up by the encroachers. These canals are the lifelines of the city for the maintenance of balanced water flows. Filling up of water bodies, disappearance of a large number of canals are the main causes of serious water logging in this city during the monsoon season.
To alleviate this water logging problem a number of suggestions are presented in the draft DAP including demarcation and reclaiming of canals, allocation of water retention areas. These water bodies or blue spaces are some important components of the ecosystem of a city. Blue spaces together with green spaces such as open areas with vegetation, parks, avenue trees, etc. are the natural elements in the city. In fact, these urban green spaces and blue spaces are the natural continuation of rural areas surrounding a city. Maintaining rural-urban natural corridors or links for green and blue spaces is necessary for a sustained ecological balance in urban areas. Maintaining sufficient blue and green spaces in natural conditions in a city is not only important from an aesthetic point of view but also crucial for its ecological balance.
In the draft document, there are provisions for keeping green spaces (parks, open areas with vegetation, etc.) and blue spaces (surface water bodies and watercourses).
However it is not sufficient just to propose allocation of such areas but ensuring a mechanism to maintain the biological, chemical, and ecological parameters of these areas in natural condition are also important. Maintaining ecological balance in a mega city like Dhaka is crucial for ensuring a healthy living condition for its residents.
Apart from the valuable ecological services they provide, blue spaces in urban areas are supposed to be a source of enjoyment and recreation for the city dwellers. Unfortunately, most, if not all, blue spaces in Dhaka city are in squalid condition. One of the largest blue spaces in DMR is Hatirjheel. Hatirjheel was developed at great cost to create a zone for recreation and enjoyment. It looks like the planners forgot that Hatiirjheelis basically a water body. They did almost nothing to ensure maintenance of the natural ecosystem of Hatirjheel. Some parts of Hatirjheel now look and smell like a cesspool. There is hardly any aquatic natural flora or fauna present in Hatirjheel.
Most of the water bodies in Dhaka city are heavily polluted with organic materials. As a result, there is uncontrolled propagation of aquatic weeds such as water hyacinth. These polluted water bodies are major breeding sources of mosquitoes. The principle and practices of integrated mosquito management emphasize on proper maintenance of all water bodies for the alleviation of the mosquito problem. All water bodies have their own aquatic fauna and flora; they have their unique hydrologic cycles. Disruption of these natural processes creates a disturbance in the ecological system. However, unfortunately, our city plannersoftentimes fail to appreciate this important aspect of natural phenomenon.Maintenance of proper ecological parameters in blue spaces as well as in green spaces is one of the preconditions to ensure a healthy living condition in urban areas.
In the DAP draft document, there are specific recommendations for planting trees especially fruit trees, timber trees and medicinal plants. The intent of selecting these specific types of profitable trees derives mainly from economic consideration. However, a city is certainly not an area for growing timber trees.
Trees selected for planting in urban areas should be considered on the basis of its aesthetic value, compatibility with other fauna and flora so that natural ecological balance is maintained.
A large percentage of trees planted in our cities are exotic species. Namesof most avenue trees in Dhaka are hardly known to common people. There are wide ranges of our own indigenous trees, which can be planted in our urban areas. Bokul, Krishnachura, Kamini, Shefali and many other indigenous trees can be planted in city areas. Some of these indigenous trees are quite suitable as avenue trees. The list of our suitable indigenous trees for urban areas is long and diverse. Planting of indigenous trees in cities would not only give a distinct aesthetic value but also ensure a robust and resilient ecosystem.
The planners of DAP should pay attention not only to economic aspects but also attach proper importance to ecological consideration when they finalize the document.
Manjur A. Chowdhury,Ph.D., Chairman (Acting), Centre for Governance Studies (CGS)
Views in this article are author's own and do not necessarily reflect CGS policy.
Comments
18 Feb 2022, 10:19 PM

Please possible How can I collect a map of DAP for Brammankitta mouza, Keranigonj dhaka send my mail Address [email protected] Whatup +8801711523110

17 Oct 2022, 09:27 AM

The detailed area plan should be a handbook for designers, investors and landowners. The language used is complicated and has no available examples to understand the idea. A clearer understanding by an ordinary person will make it popular and acceptable to citizens keen on its details. The blue area needs to be appropriately maintained, but who is not doing their job? We need to identify who will do what and how? Getting to the physical aspect is important because people need to learn how to go about the concept. There is a description of the road, where there is a pathway, actual road, utility belt area and parking. But where is this road? Is it the main arterial roads, how wide are Dhaka lanes, and how much is needed? Secondly, what type of roads should be encouraged? Pedestrian or Vehicular? Where will people park their cars if it's purely a pedestrian road? A detailed map of each area should be shown to understand the planning authority designing such roads. The provision that says, to leave the plot area makes it appear as if, road width is determined by the plots on its sides and not by the Roads and Highways. A road is a commuting linear form that connects, residents can only make it wider to get the benefit of a higher FAR value, but they can not understand how it will be knitted within an existing layout. This kind of understanding is needed that will make DAP approachable and understandable for the majority of those who want to understand what it is for.