World's Case of 'Long COVID' Needs Urgent Attention
Alistair Burt | 19 February 2021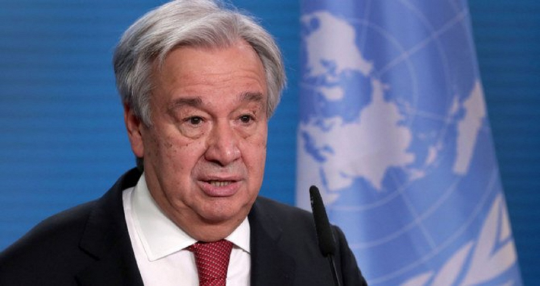 ---
As awareness of the extent of the coronavirus disease (COVID-19) crisis began to register last year, UN Secretary-General Antonio Guterres made a plea for a "global cease-fire." In March 2020, he responded to the widespread concerns of development agencies that victims already caught up in the myriad of conflicts worldwide were about to be subjected to this new threat to their well-being.
This alarm was well meant — there looked to be no reason why the epidemic emerging elsewhere should not affect those already subject to the meanest physical deprivations in war-torn areas, where medical facilities were also often deliberately targeted. And if the world was to meet a potentially existential viral challenge unseen for perhaps a century, it would be better placed to do so by working together in a manner exemplified by achieving a cessation of man-made hostilities.
In the event, we have seen fewer COVID-19 cases than were first feared in such places; but sadly also very few combatants taking the opportunity to use the pandemic to climb down from locked-in situations. The hot conflicts in Libya, Yemen and Syria and cold stand-offs, such as Iran and the US and Israel and Palestine, all continue.
But COVID-19 has many facets, and many threats. It has not only created its own horror for those who have suffered its effects, but has also shone a severe and uncomfortable spotlight on other aspects of the world's grinding unfairness, poverty and inequality — all ultimately causes of friction and conflict.
The first fear was the obvious medical emergencies of illness and death, prompting the global search for protective clothing, ventilators, treatments and, of course, vaccines. We then got our first clear sight that, beyond the rhetoric of "we are all in this together" and that "no one is safe until all are safe," the cold reality of life is the inevitable need of nation states to protect their own citizens. Some balanced this expenditure on their own people by also supplying others — they will be remembered.
As the year progressed and we moved closer to the vaccine solution, efforts were made to build a global supply and distribution network. Covax came into being for this purpose, but it can offer nowhere near the sort of coverage in less-developed nations that is expected in richer states. Today's map of vaccine shots per 100 people hardly needs to be posted — you already know what it looks like. Perhaps 100 states have had no vaccinations at all. The Economist Intelligence Unit predicts much of the developed world will be vaccinated by the end of 2021 or mid-2022, but it will be perhaps a full year later for the rest. None of this is a surprise. The vaccine is being manufactured as quickly as it can be but, when the world is unprepared, it is rarely a surprise who comes off worse.
The pandemic has shone a spotlight on the world's grinding unfairness, poverty and inequality.
The worry that this inequity of supply and delivery might be a cause for friction is real and we have already seen "vaccine nationalism." An unmet need for vaccines in countries, even if significant numbers of deaths have not yet occurred there, is a breeding ground for variants and mutations of the virus, meaning the pandemic becomes never-ending.
But that is just the medical aspect. The world's COVID-19 recovery poses new threats. What of the risks of instability and potential conflict from the economic pressures to come?
The world's economic repair bill — vast beyond current comprehension — will not be met equitably either and will become a source of new potential conflict. The geographical correlation between the vaccinated and the unvaccinated is reminiscent of so many other maps, not least demographic ones. The world's most volatile areas have young populations, mostly spared COVID-19 so far, but they will be growing up looking for jobs just at the same time as the economies of the developed world will also be suffering increased joblessness, meaning they will be unable or unwilling to boost their development budgets to help in conventional ways. Young people with no jobs, but grievances about others experiencing very different COVID-19 outcomes because of where they live, will be exploited. Also not every offer of state economic assistance that comes along in the wake of this will come without unannounced strings attached.
As we reach its first anniversary, Guterres should renew his plea. This time it should not be just for a global cease-fire, but also a demand for concerted international economic action to ensure that vulnerable states are not left behind. The public and private sectors need to come together: A combination of the G7, which the UK leads this year, and the private sector, fueled by the trillions of dollars individuals and corporations have made while economies plunged.
Medics are dealing with what is called "long COVID." International leaders would also do well to spot this phenomenon in their sphere of expertise.
Alistair Burt is a former UK Member of Parliament who has twice held ministerial positions in the Foreign and Commonwealth Office — as Parliamentary Under Secretary of State from 2010 to 2013 and as Minister of State for the Middle East from 2017 to 2019.
This article was originally published on Arab News.
Views in this article are author's own and do not necessarily reflect CGS policy.
Comments