Searching Ways Forward for Bangladesh in the Time of Pandemic: Covid-19 and Governance in Bangladesh
04 February 2021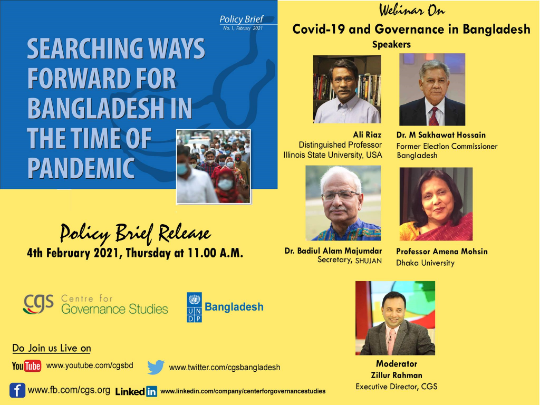 ---
A webinar has organized by the Centre for Governance Studies, supported by the United Nations Development Programme (UNDP) on 4th February 2021. The webinar was under the title'Searching Ways Forward for Bangladesh in the Time of Pandemic: Covid-19 and Governance in Bangladesh'
The webinar was moderated by Mr. Zillur Rahman, executive director, Centre for Governance Studies and the event was attended by the distinguished professors and civil society members as discussants. The key speaker was Dr. Ali Riaz, the author of the policy brief and other speakers were Dr. Badiul Alam Majumdar, Founder Secretary of Citizens for Good Governance (SHUJAN); Dr. Amena Mohsin, Professor at Dept. of International Relations, Dhaka University; and Brigadier General (retired) M Sakhawat Hossain, Former Election Commissioner.
Dr. Ali Riaz started his speech by emphasizing on the governance questions and requesting everyone to be responsive. He recommends helping first those who are at the bottom of the ladder, considering the financial crisis of the pandemic. Dr. Amina Mohsin expressed her concern about the lack of leadership at the global level. In her speech, shealso suggests CGS and other research organizations to consider the human security aspect and study more in the under research areas.
Dr. Badiul Alam mostly emphasized on the election issue, saying the rulers are no more accountable to the common people. He also suggests three areas to focus on to re-establish the broken governance system. During the speech of Former Election Commissioner Brigadier General (retired)M Sakhwat Hossain, he expressed his concern about the future generation students, suggesting the issue of education should give much focus in the policy discussion.
At the very last, Dr. Ali Riaz sir was given the floor again where suggested the governance issue requires to discuss in a more comprehensive manner. He also hoped the government and the policymaker will take their views into consideration. The video of the webinar is available on the Center for Governance Studies (CGS)'s Facebook page and Youtube channel.
Comments