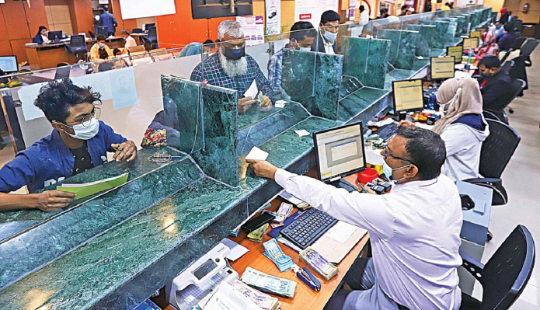 ---
Bangladesh has seen a significant rise in consumer banking or retail offering by banks or a few non-bank financial institutions (NBFIs) in recent days. During the coronavirus pandemic, banks and NBFIs are often being seen advising their clients to transact online or through alternate channels instead of visiting the branches. Reportedly much of the personal banking or retail transactions are being handled online from home or mobile internet.
Though there are identified issues of cyber security breaches and control lapses, this rise is likely to gain momentum due to the creation of more and more wealthy clients with diversified product demand with improvement in telecommunications and internet services. Even before the pandemic, we have seen fewer and fewer clients were willing to come to the banks.
The alternate channel is coming out to be the best way to serve the emerging client needs. Credit cards, debit cards, ATM (automated teller machine), SMS or mobile banking, and internet banking have come out as proven tools. Even in Bangladesh, banks are focusing more on establishing or nourishing alternate channels and allocating increased resources.
As of December, banks reportedly had 10,000 plus ATMs distributed throughout the country, with Dutch-Bangla Bank alone owning almost 48 per cent of the facilities. Q cash, another network, has reportedly put up around 1,000 ATMs. There are two more ATM networks that are respectively driven by Brac Bank's OMNIBUS and AB Bank's Cash link.
With the spur of online banking, the point of sales (POS) is also on the rise, and the country has more than 60,000 POS machines as of today.
Once the initial teething problems are over, the National Payment Switch (NPS) is expected to gain momentum, and online banking is also going to be faster than before.
The country reportedly has about 21.61 million debit and credit cards. The number of debit cards stands at more than 19.99 million, with Dutch-Bangla Bank leading the league. The credit cards in circulation are estimated to be around 1.62 million. City Bank Ltd owns almost 35 per cent market share in the credit card segment, closely followed by Standard Chartered Bank, Eastern Bank, Brac Bank and Prime Bank. More than Tk 40 crore was transacted daily on average against the issued cards as of July 2020.
However, loans against credit cards are quite less because many of the card owners use this as debit cards. At the same time, most of the banks are conservative against credit card loans due to ticket size and recovery uncertainty. Most of these cards are again dual currency (taka and USD) cards, while foreign currency exposure is adjusted against travel quota and, at times, against the export retention quota. The cards issued are mostly Visa, followed by MasterCard and American Express.
With the expansion of the mobile network in Bangladesh and a bank-led model in place, mobile financial service (MFS) is gaining momentum.
As of January 2021, banks reportedly had over 100 million registered mobile banking or MFS accounts, with Brac Bank's bKash owning most of the clients. Supposed to be Bangladesh Postal Service-led Nagad is also gaining ground fast.
With more people sending money from Chattogram to Gaibandha, Dhaka to Madaripur and across the country, the number of MFS accounts is sure to rise and make adequate commercial sense to the banks and, more importantly, add benefit to the clients.
More than 200,000 Dutch-Bangla Bank clients actively use internet banking to know their account balance, transfer money from one account to another account, make term deposit, and pay utility bills. I am sure the number is more than double in the case of Standard Chartered, City Bank, Brac Bank, and HSBC. With the increasing number of internet, desktop, laptop and smart-phone users, the number is obviously going to rise.
More and more people are going to use internet service to transfer money, pay utility bills, and make informed decisions in banking. Many banks in Bangladesh are already using short message service or SMS to let the clients know their large transactions or account balance. Moreover, Covid-19 and the consequent need for social distancing have led banks and consumers to prioritise the usage of alternative service delivery channels.
Some banks such as Standard Chartered and Eastern Bank are even going as far as to make certain services exclusive to their internet banking applications in order to nudge the consumers in using the digital channels more. The way banking in Bangladesh is moving ahead with greater emphasis on retail banking opportunity space and innovative schemes, these alternate banking channels will be mainstreamed soon and make more sense for personal wealth management and client solutions building. For that, we need to have clear visibility about the destination with all stakeholders, including the central bank extending policy supports continuously.
We also need to put in befitting human resources and information technology delivery platform to support the boom in alternate banking. The recent ATM and credit card frauds also tell us - we are exposed to surprises. Therefore, the rise of alternate banking is also subject to our doing good homework about better operations risk control in retail banking.
Most of our senior bankers don't give adequate emphasis on operations risk management and are shy of investing in IT governance improvement or even IT infrastructure development. This can't continue for long. The sooner we take visible actions to protect our information security and client confidentiality, the better for the future of banking in Bangladesh.
Mamun Rashid is an economic analyst.
This article was originally published on The Daily Star.
Views in this article are author's own and do not necessarily reflect CGS policy.
Comments