Webinar on Mosquito Problem in the City: Way to Solve
18 March 2021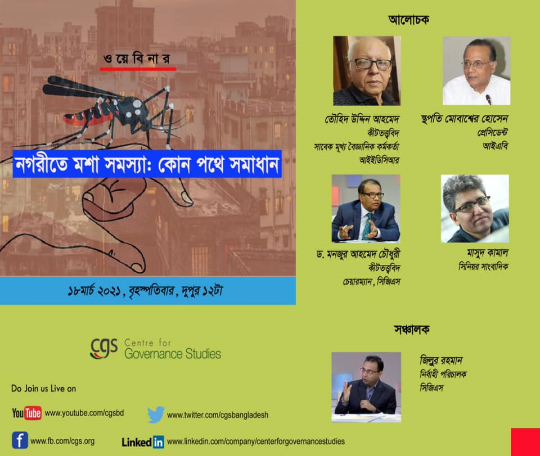 ---
The webinar on Mosquito Problem in the City: Way to Solve, organized by the Centre for Governance Studies. The webinar was hosted by Zillur Rahman, the Executive director of the Centre for Governance Studies (CGS). The speakers who joined in this webinar were- Dr. Manjur Ahmed Chowdhury, Chairman of Centre for Governance Studies (CGS) and entomologist; Tauhid Uddin Ahmed, entomologist and Chief Scientist of IEDCR; Ar. Mubasshar Hussein, President of Institute of Architects Bangladesh; Masood Kamal, Senior journalist.
Dr. Manjur Ahmed Chowdhury said there are two types of mosquitoes Aedes aegypti and Culex quinquefasciatus through which general people suffer a lot. In the time of the rainy season, Culex quinquefasciatus increases. Dr. Manjur Ahmed Chowdhury gave suggestions to solve the mosquito problem in the city. According to him, there are no specific laws and monitoring policies to solve this problem as unclean drainage systems, excessive impost tax on pesticides, discouraging the mass public to maintain cleanness in their household area are also reasons for this problem, he added. After taking measures by the city cooperation, lacking skilled man force, not enough equipment, lack of maintenance of the equipment is the causes of the indifference of the authorities.
To control mosquitoes in the city Dr. Manjur Ahmed Chowdhury suggested the Integrated Mosquito Management (IMM), in which inclusion of skilled man force, modern equipment, chemical control, research, proper monitoring, and laws are present. Modern equipment and laws will not work a hundred percent without the cooperation of the general people. The general people should be more concerned about their household which can increase the mosquitoes. Awareness campaigns through TV and media can play an important to create concern n society.
Tauhid Uddin Ahmed said that both North and South Corporation should continue their normal activities on mosquito control. He emphasized two things- first, both the corporations should be strict about their supervision, monitoring, and evolution process. Second, from now proper measures should be taken to control the propagation of Aedes aegypti in the month of April.
Masood Kamal mostly criticized public awareness. Government campaigns about the mosquito control, still the people do not maintain the measures so according to Masood Kamal regulatory measures and fine should be introduced in Dhaka and other cities so that the general public maintains these measures seriously.
Mubasshar Hussein mentioned some unique points and suggestions in his speech. He said most of the propagation of mosquitoes took place in under-construction buildings and government buildings. The reason is there are no specific employees who maintain the possible mosquito propagation places like- roof, pond, drain, lakes around the buildings. Again he focused on the strict laws to control and monitor the propagation of mosquitoes.
After sharing the speaker's opinion on the mosquito problem and ways to solve it, the host of the webinar conveyed thanks to all the speakers and ended the webinar.
Comments