Woman Entrepreneurship: A tough Area For the Females of Our Country
Sabiha Akter Seema | 19 April 2021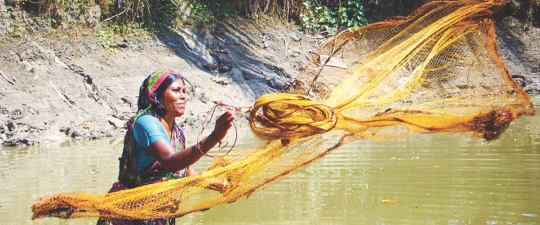 ---
Women entrepreneurs include women who can take initiatives for promoting a business or an enterprise.According to the government of India,the term woman entrepreneur is defined as, ''An enterprise owned and controlled by a woman having a minimum financial interest of 51 percent of the capital and giving at least 51 percent of employment generated in the enterprise to other women.''
Bangladesh is known as a developing country. But, it is only through the empowerment of women in various sectors, that Bangladesh can become a developed one. Participation of women in the economic sector can reduce poverty and inequalities, improve children's fitness and nourishment, and finally speed up the development of the nation.
From the perspective of Bangladesh, women usually start their own businesses to increase their work satisfaction and to become more independent. Through their own business, women can gain liberty in the workspace, safety, and security. Women who face discriminations in the workplace such as unequal pay are more interested in entrepreneurship. Owning a business can assist a woman by providing her with economic security after adivorce, separation, or in times of other troubles. Through their own business, women can also challenge their limits and increase their skill set to become more efficient.
According to Master card Index of Women Entrepreneurs for 2020, among 58 economies, Bangladesh is one of the bottom-ranked countries which means that it is one of the toughest places for female business owners. Tunisia, Saudi Arabia, and Turkey have weaker scores as well ranging from 40 to 50. Butm Bangladesh, Algeria, and Egypt have exceptionally low scores ranging from 30 to 40 points. Among all the economies, Bangladesh ranked 57th in the Women's Advancement Outcomes component just ahead of Algeria, according to the report.
During the current pandemic situation,both women entrepreneurs and informal sector workers faced numerous social and economical problems. In our country, the women who lost their jobs due to the pandemic have resorted to social media to run their own businesses. Unfortunately, in our conservative society, even such online businesses bring in various complications.
Throughout all thes hurdles, there are 10 woman entrepreneurs worth mentioning who have created their identity amidst the many obstacles. They include, Bibi Russell, Founder, Bibi Productions; Ivy Haq Russell, Former Investment Banker and Founder, Maya; Taslima Miji, Founder and CEO, Tech mania; Sabila Enun, Entrepreneur; Selima Ahmed, President and Founder, Bangladesh Women Chamber of Commerce and Industry (BWCCI); Sabrina Islam, President Women Entrepreneurs' Association (WEA); Nadia Binte Amin, Founder, Research and Computing Services; Samira Zuberi Himira, Founder and Managing Director,Team Engine; Selina Qadar, Founder, Agric oncern; and Rubaba Dowla, Founder, Pulse Healthcare Service.
Being a successful woman in Bangladesh is not an easy task because we live in a male dominated country. In order to become self-employed, our women have to face various obstacles such as restrictions from family members. There are times when these capable women with the right skills have to step back from business opportunities due to a lack incentives. Paucity of fund is one of the prime problems in our country; while gender discrimination, bank loan management, and lack of sufficient knowledge and information are other mentionable problems.
In our country, for the development of women entrepreneurships, different kinds of institutional support from various government and non-government sector, private sector, and NGOs is required. Institutional support and proper guidelines can assist our women in becoming more creative and established. Training and guidelines, seminars and workshops, economic development, safety and security, job opportunities, and creating awareness is also just as important for the expansion of women entrepreneurship.
Traditional view about women is the greatest barrier for women to becoming successful entrepreneurs. They are more likely to use their own capital or take money from friends and relatives to start their businesses. We should create more opportunities so that women entrepreneurs can fulfill their goals and targets and use individual influences to motivate people and contribute to our society.
Sabiha Akter Seema, Program assistant, Centre for Governance Studies (CGS)
Views in this article are author's own and do not necessarily reflect CGS policy.
Comments