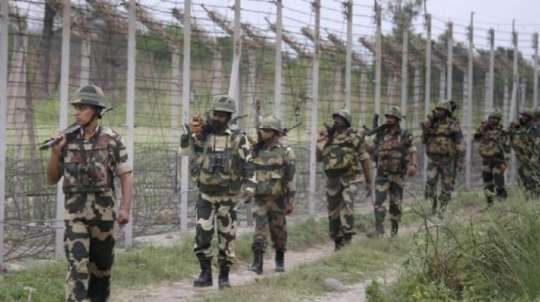 ---
Obviously, the flavour for jihadism is low at present, but it would be incorrect to assume it is all overOne feels glad to see Jammu and Kashmir drop steeply in the hierarchy of India's security concerns. I am not going to spoil the party by suggesting that the current situation is just a smokescreen behind which lie many scheming ideas and thoughts to take it all back to 2001. Why 2001? It is simply because that is a landmark year recorded as the one with the highest terrorist casualties (2,100 killed); or, in other words, the year with a disproportionately high number of engagements, contacts, gunbattles. It was also the year when we saw the beginning of the Nato onslaught into Afghanistan (then usually referred as AfPak) after 9/11. Afghanistan and J&K have a long association; I am not alluding to their deep history but only to recent times. It's the Soviet invasion of Afghanistan at the end of 1979 that brought the mercenaries, often called jihadis, to Afghanistan under the sponsorship of the United States and Saudi Arabia. The rise of Islamic obscurantism can be traced back mostly to the 1980s when the refugee camps on the Pak-Afghan border became the centres of conversion to more radical beliefs of Islam. Pakistan's Inter-Services Intelligence gained much of its experience in handling tricky intelligence and operations related situations in Afghanistan. As soon as the war ended with the Soviet defeat, the mercenaries were available for a song and became the new jihadis in J&K. People unaware of the nuances of the issues in J&K over the last 30 years need to be informed that the original separatist movement of 1989 was largely indigenous and may have been controlled, but for the sudden availability of the mercenary jihadis freed from the war in Afghanistan. The ISI got them together with funds, weapons and military wherewithal no one had control over. They were then infiltrated into Kashmir from every conceivable direction to add to the growing footprint of terror. Many of them were Afghans who had no love lost for Kashmiris. The Indian Army and its fledgling anti-terror force, Rashtriya Rifles, neutralised hundreds as intelligence on them was never far, with them getting on to the wrong side of many in the local population, especially women. The pipeline of so-called jihadis dried up by 1996, when the remnants of the mercenaries who fought the Soviet Army in Afghanistan had either met their end or returned to do service with the Taliban when it came to power. The infiltration of foreign terrorists from 1996 onwards was mainly that of Pakistanis who flooded North Kashmir, in particular in the Bandipur, Sopore, Lolab and Handwara tracts.
Kashmir's proactive media repeatedly queried me in 2010-12 about the then situation in Afghanistan and how it would affect Kashmir if the US troops withdrew. Those were the days when Gen. David Petraeus was in charge of the US Central Command and the principles of the "COIN" (counterinsurgency) doctrine were in full flow in Afghanistan. I always answered with the stock reply that almost became a byline: "When you throw a stone into water there are ripples in every direction. Ripples from the conflict in Afghanistan will invariably travel to J&K." I usually left it at that, and if someone persisted, I would usually say: "Let no one imagine that 2011 is 1989, we are far superior in deployment and even more in experience." All these words are coming back to me in bits and pieces to create a picture for the region once the Americans are out of Afghanistan. That is expected largely by July 2021, without waiting for President Joe Biden's September 11, 2021 deadline.
So, is a resurgence of extremist violence in the region likely after July? The American presence being sought at some Pakistani airbases to afford drone operations and possibly other forms of aerial warfare including Special Forces is with a view to ensure that Afghan territory, and maybe some Pakistani territory as well, is not used to conduct activities that are detrimental to US interests. It's to keep a vigil over these areas which have provided much sorrow to the world in the last two decades. Of course, this will never be sufficient to have full regional coverage, but the US can always be advised to include India in its coverage too, simply as emerging strategic partners, and Pakistan is in no position to resist that, given its precarious financial position.
The current 2021 season has thus far seen minimal activity in Kashmir. The infiltration season began almost two months ago but attempts have been few and far between. Obviously, the flavour for jihadism is low at present, but it would be incorrect to assume it is all over. In 2011 too, the infiltration picked up in the July-October period. Pakistan's attention is focused on Afghanistan, where mistakes can cost it dearly. On the J&K front, a season of low-profile activity can be accepted, and the separatist infrastructure can remain intact with infusion of money and wherewithal through some routes which are extremely difficult to neutralise. What really makes the difference is the absence of human resources. If enough rebels are not being recruited locally, there won't be sufficient resources for guidance, logistics and overground work. 2021 is not 1989 either as far as the Line of Control is concerned. The counter-infiltration layout and network is smart, extensive, integrated and efficient. Twenty per cent attempting infiltration could yet get through, but unless huge resources are deployed for this by the ISI, the impact will be low. That big effort is difficult in view of the visibility today and efforts by outfits like FATF to keep vigil internationally. It won't be easy for Afghan or any other foreign terrorists to function in Kashmir, especially with dilution of the extensive OGW networks. Besides, no one really trusts these jihadi elements in Kashmir nowadays, especially in the urban areas.
Diplomatically, India like all other interested nations have to address the situation of having to deal with an Afghan leadership other than the current one. Back channels would have been established by some nations and exchange of information would be in practice. What one really fears is bloodshed and civil war-like conditions in Afghanistan which could persist for some years. In such a situation it would become extremely unpredictable on what the fallout on Kashmir could be. We should make the best of the current situation, focus on development activity, and outreach to people with sufficient messaging that India's stable climes are far better than the turbulence of the neighbouring region.
Syed Ata Hasnain, a retired lieutenant-general, is a former commander of the Srinagar-based 15 Corps. He is also associated with the Vivekananda International Foundation and the Institute of Peace and Conflict Studies.
This article was originally published on Deccan Chronicle.
Views in this article are author's own and do not necessarily reflect CGS policy.
Comments