Inclusive Growth Policies Can Reduce Inequality in Bangladesh
Nawshad Ahmed | 16 June 2021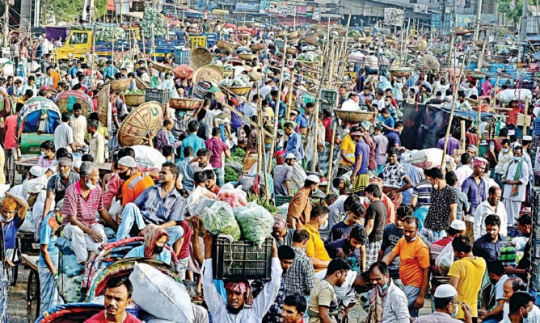 ---
Whether economic growth has an inherent mechanism to reduce both poverty and inequality has been extensively studied in developed and developing countries. From these studies, we can say that growth is a powerful instrument for reducing poverty. However, growth alone does not fully address the problem of both poverty and inequality—other tools are needed. The "inclusive growth" approach is what is now used for poverty alleviation and inequality reduction around the world and refers to sharing of economic growth benefits to the widest extent possible, especially with the bottom 40 percent of the population.
This inclusionary approach to growth should help the poorest and most vulnerable people to increase their income, boost employment opportunities, and acquire productive assets—all of which contribute to their movement out of poverty and to equality. Bangladesh has been successful in poverty reduction in the past 50 years but inequality has been rising, despite impressive economic growth in the last three decades. This shows that though one objective of economic growth, poverty reduction, has succeeded, the other has not. The first Sustainable Development Goal is to eliminate poverty and SDG 10, to reduce inequality—both are critical and ambitious development agenda to be met by 2030.
The country has been committed to achieving fair and equitable economic growth since independence. There has been wide-ranging consensus about the need to address inequality in society, not only as a moral obligation but also to enhance the productive potential of people with the goal of faster economic development. It was also recognised that growth itself is an inadequate means to reduce inequality if pursued without investing in social protection programmes, arranging easy access to finance for the poor, and prudently designed fiscal and monetary policies. The free market mechanism cannot ensure the removal of all bottlenecks towards full employment, maintaining minimum wages for all, guaranteeing basic needs for every household, and healthcare, quality education and housing for everyone. Some empirical studies have shown that sustained increase in income inequality has the potential to reduce economic growth performance and therefore, we should seek to reduce inequality with urgency and act in the interest of long-run economic prospects.
Empirical studies in different countries have shown that fiscal and monetary policies in favour of income and employment support, and public investment in education and health provisions have positively assisted private production and growth by their distributive effect and by stimulating aggregate demand, instead of harming productive forces. Other studies have shown that countries having the highest tax-GDP ratio have been able to decrease income inequality more successfully. Poor taxation of income and inequality are co-related and so direct taxation must be used to increase government revenue to cover the cost of quality education and health, subsidise food and electricity for the poorest households, and expand social protection programmes.
To design inclusive growth policies, we need to understand the process through which inequality rises. There are five potential areas that can be identified in relation to rising inequality, the first being adaptability of skills to technological advancement—as demand for high-skilled labour raises wages and those with less training and skills either lose their jobs or receive low pay. Secondly, those with higher educational levels have better employment opportunities and earnings. Next, better administration of taxation has the potential to increase revenue, redistribute it in favour of the poorer segment of the population by way of investment in rural infrastructure, agriculture, and government subsidies in education, health and other basic services, and through unemployment benefits. Fourth, various economic and other shocks, natural and man-made disasters, emergencies such as the ongoing coronavirus pandemic, and large-scale population displacements are underlying causes of poverty and inequality. Last, a section of the population who benefit from large-scale corruption and other means of illegitimate income, can lead to rising inequality in society.
Let us be retrospective about the policies adopted in Bangladesh and explore other options which are available to bring about a fairer and more equitable growth process in future. In the past, several policies dominated, including fiscal and monetary policies, with a view to attaining macroeconomic stability—privatisation of banks, ensuring capital availability to investors, spurring employment through industrialisation, increasing agricultural and consumer goods production and consumption, on the domestic front, and increase of trade and manpower export globally. On top of these, the government has invested heavily in electricity generation, a transportation network, other infrastructure like ports, and setting up special economic zones—all of which attempt to facilitate private investment and create a level playing field for the private sector.
Two important underlying goals of the above policies, among others, were to bring down the proportion of people living in the poverty bracket and reduce income inequality. As we know, the proportion of people living under the poverty line in the country has gone down from 59 percent in 1991-92 to 20.5 percent in 2019. However, the Gini coefficient increased from 0.39 in 1991 to 0.48 in 2016—showing inequality has increased significantly in the country.
A lot more than what has been done so far needs to be done to make growth more inclusive. These include higher budgetary allocations in health and education sectors, technical and vocational training for enhancing human capital, increased public investment in food-grain procurement and distribution, strengthened tax administration for fiscal sustainability, stimulus packages for small and medium sized enterprises, and better targeting of beneficiaries and expansion of coverage of social safety net programmes, especially during the current Covid-19 pandemic. The government's 2020-2021 budget provision of stimulus packages did not reach small and medium sized enterprises, small farmers, and the poorest hit hard by the pandemic, to the extent it expected. In the 2021-2022 budget, the government needs to keep this in mind and take strong measures to keep both poverty and inequality under control. The next fiscal year's budget must reflect these factors to deal with rising inequality and sudden increase in the number of new poor due to the effects of the pandemic.
Rising inequality is a matter of concern and therefore, inclusive growth policies should be adopted to address it. We need to devote more urgent attention to the challenge in view of the Covid-19 pandemic since its effects are likely to continue impacting our economy for several years to come. Both the Millennium Development Goals and SDGs heavily emphasise poverty alleviation and inequality reduction. We have to live up to the expectations of the SDGs which are only nine years away now.
Dr Nawshad Ahmed is an economist and urban planner.
This article was originally published on The Daily Star.
Views in this article are author's own and do not necessarily reflect CGS policy.
Comments