Report on Dengue Situation in Dhaka
11 August 2021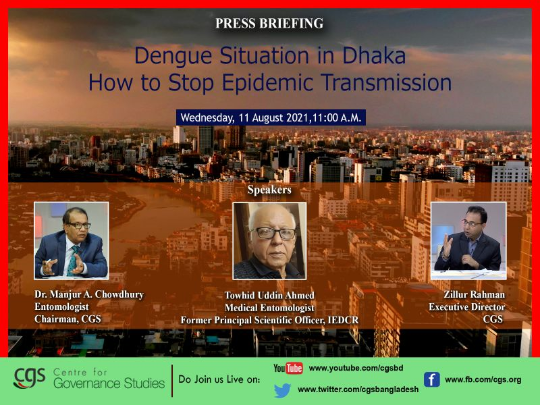 ---
Dengue is considered to be one of the most serious public health problems for Bangladesh. In terms of the mosquito borne diseases, Dengue ranks highest in morbidity and mortality. Dhaka is a breeding ground for the Dengue virus, where as of August 9 roughly 4,753 cases have been reported according to the health officials of Bangladesh. Dengue transmission is at its peak during the monsoon period (May-August) and lingers on till November. If proper and scientific steps aren't taken to counter Dengue immediately, Dhaka city might have another mass public crisis to deal with alongside the Coronavirus. To raise awareness of both the public and responsible authorities, Center for Governance Studies (CGS) hosted a press conference on the 11th of August where entomology experts gave opinions based on their expertise and past experience.
Medical Entomologist and Former Principal Scientific Officer of Institute of Epidemiology, Disease Control and Research (IEDCR) Towhid Uddin Ahmed, and Chairman of Centre for Governance Studies (CGS) Entomologist Dr. Manjur A. Chowdhury talked in length about the current dengue situation and possible ways to counter the virus. The discussion was hosted by the Executive Director of Center for Governance Studies, Mr. Zillur Rahman.
Dr. Manjur A. Chowdhury talked about the dangerous situation Dhaka is facing right now, with covid still rampant and Dengue accompanying it. Dengue has reached a level that where it must be treated with proper care otherwise it can turn into an epidemic. The medical entomologist pointed out that the dengue virus spreads through the adult Aedes mosquito, and the most direct way to combat Dengue transmission is to clear out areas where the adult mosquitoes reside and eradicate them. However, this kind of integrated vector control of diseases as prescribed by the WHO is not currently being followed by the government and relevant authorities, who are more focused on eradicating the larva of mosquitoes instead of targeting adult mosquitoes. Dr. Manjur emphasized the use of scientific methods to eradicate the spread of dengue transmission and if anyone develops a fever, they should be tested for both dengue and Covid-19.
Towhid Uddin Ahmed analyzed the historical perspective, 2019 had the highest transmission rate then it lessened in 2020, and what will happen in 2021? He stated that a proper research should've been conducted to counteract any possible dengue epidemic. He pointed out two key factors, rain and temperature, which create a good environment for a dengue epidemic, Dhaka has both. He stated that Dhaka is the hub of dengue spread in Bangladesh and by controlling it in Dhaka, it can be controlled throughout the nation. The reported number of Dengue cases might be misleading as people aren't going to hospitals for fear of covid-19 infections. The Epidemiology expert pointed out the ineptitude of relevant authorities is the main reason why the disease is currently at this level of contagion. According to the former chief scientific officer, the only way to stop the spread of the disease is to take a door-to-door initiative where mosquito repellents are sprayed in all possible locations where adult mosquitoes reside, or the government has to allow and promote facilities where people themselves can use repellents on mosquito clusters.
Dr G.M. Saifur Rahman, joined the conversation and shared his expertise on the matter. He said the fight against dengue is a continuous process. He emphasized the importance of locating Aedes mosquito breeding clusters and destroying them at the early monsoon periods. Raising public awareness is of utmost importance, he also pointed out how the city corporation can better their flogging methods. The workers should spray at a 45-degree angle for the most efficient way of eradicating both the larvae and adult mosquitos.
In conclusion, the panelists of the conference agreed unanimously that the best way to curb the spread of dengue transmission is to eradicate adult Aedes mosquitoes and not just their larvae. The panelists also emphasized that the general public needs to keep their environment safe and clean by clearing out water containers so they don't become breeding grounds for mosquitoes. The public was also urged to use mosquito repellents, and keep children under mosquito nets at night. Finally, the operators of mosquito repellent foggers need to be trained to eradicate adult mosquitoes that reside in residences instead of just spraying open drain-ways and low-lying places.
Comments