Bangladesh's Roadmap to Climate Action
Apon Zahir | 21 October 2021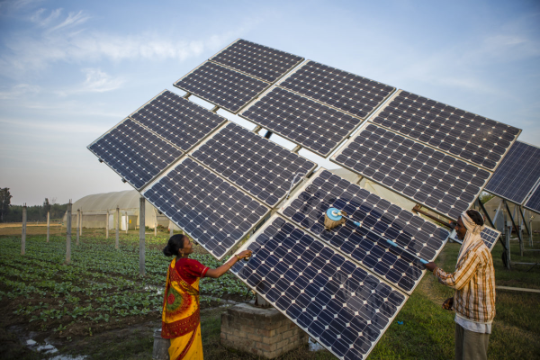 ---
This year, Bangladesh will go with their largest delegation yet to the Conference of Parties (COP26) held in Glasgow, United Kingdom. Bangladesh is currently one of the loudest voices in the world regarding top-down climate action advocacy and the need for multilateral cooperation for nations and regions that are the most vulnerable. The honourable Prime Minister of Bangladesh, Sheikh Hasina, has been elected Chair of the Climate Vulnerable Forum (CVF) for the second time in 2020. Under her guidance, Bangladesh wants to lead by example of how a developing country can conduct effective adaptation and mitigation actions against the effect of climate change and safeguard their people with financial assistance from the UN. To this end, Bangladesh has highlighted several key initiatives and achievements in their Nationally Determined Contribution (NDC) document presented to The United Nations Framework Convention on Climate Change (UNFCCC).
Initiatives and Achievements:
Mujib Climate Prosperity Plan up to 2030
The Honorable Prime Minister, as Chair of the CVF, has begun a program to build Bangladesh's "Mujib Climate Prosperity Plan." The Plan will be the first of the CVF plans, with a strategic investment framework to mobilize finance for renewable energy and climate resilience activities, particularly through international cooperation. The draft plan identifies several key initiatives, including renewable energy, energy storage infrastructure, power grid modernization, an established carbon market regime, Bangladesh Delta Plan 2100 resilience bonds, future-proofing Bangladesh's industries, locally-led adaptation outcomes, and financial protection for Micro, Small and Medium Enterprises. Agriculture and fisheries development that is climate-resilient and nature-based, environmentally friendly transportation, climate-resilient well-being initiatives, and an accelerated digital revolution
Ashrayan: Shelter for the Homeless and Landless
The government is putting up a shelter project for those who are landless or homeless. 442,608 households have been rehabilitated in 22640 barracks and 0.26 million homes as part of the programme. In Khuruskul, Cox's Bazar, 4,409 climate refugee families are being sheltered. In addition to improving disaster resilience, the initiative aims to mitigate through planting 1.58 million trees, rainwater collection, Solar Home System-based alternate power sources, and better cookstoves, among other things. Aside from that, the Cluster village project has restored 50,104 households and planted 0.455 million trees.
National Solar Energy Roadmap, 2021-2041
The National Solar Energy Roadmap, 2021-2041, was created to provide the nation with a long-term vision and potential capacity objectives for its solar energy effort. This section outlines the wider approaches needed to meet those objectives. The Roadmap outlines a few broad as well as particular and time-bound steps to attain that goal by 2041, based on three implementation scenarios.
National Action Plan for Clean Cooking, 2020-2030
Bangladesh's Country Action Plan for Clean Cook Stoves 2013 (CAP 2013) primarily focused on removing existing financing barriers by facilitating SMEs' access to capital, promoting access to climate funds, leveraging government funds to finance women-led businesses in the sector, and lobbying for additional low-interest financing options from international donors. Approximately 4.5 million upgraded cookstoves have already been distributed. Following its success, Bangladesh is developing a new National Action Plan for Clean Cooking (2020-2030).
Forest and Carbon Inventories and Tree Plantation
During 2016-2019, the Bangladesh Forest Department (BFD) undertook the National Forest Inventory (NFI) to assess the state of forest and tree resources, carbon and biomass stocks, local people's reliance on trees and forests, and the ecosystem. The Forest Reference Level (FRL) and Forest Reference Emission Level (FREL) were established by the government and submitted to the UNFCCC. Bangladesh developed the Bangladesh National REDD+ Strategy (BNRS) to minimize carbon emissions from the forestry industry. It developed the National Forest Monitoring System (NFMS) to track tree and forest cover regularly. BFD has planted 10 million tree seedlings across Bangladesh. The Ministry of Disaster Management and Relief has also planted 5.4 million palm trees, which will help to minimize the danger of mortality from lightning strikes.
Bangladesh National Action Plan for Reducing Short-Lived Climate Pollutants (NAP-SLCP)
The NAP-SLCPs was created in February 2012 with the help of the Climate and Clean Air Coalition to minimize SLCPs. The plan focuses on identifying and implementing the most cost-effective SLCP mitigation solutions on a wide scale. The SLCP plan includes eleven priority mitigation actions, six of which target key black carbon sources and the remaining five target significant methane sources. The plan's full implementation is anticipated to cut black carbon emissions by 40% and methane emissions by 17% compared to a business as usual (BAU) scenario in 2030.
Energy Efficiency and Conservation Master Plan up to 2030
Under this plan, the government aims to lower energy intensity (national primary energy consumption per unit of GDP) in 2030 by 20% compared to the 2013 level. During this time, a total of 95 million tons (113 billion m3 of gas equivalent) is projected to be saved.
Renewable Energy Initiatives
Bangladesh has taken several steps to optimize the use of renewable energy. More than 6 million solar-home systems (SHSs) have been built in Bangladesh, benefiting more than 18 million people. Rooftop solar panels placed in government and private buildings generate around 66 MW. Solar irrigation systems have been deployed at 2226 locations around the country. To increase energy availability in off-grid regions, the government has extended a re-financing plan for alternative energy generating projects such as small-scale solar and microgrids.
Promoting Green Technology
Bangladesh Bank launched a refinancing program to encourage environmentally friendly technologies such as solar energy, biogas plants, and Effluent Treatment Plants (ETP). The initial projects focused on only ten products, which have now grown to 50 products divided into 11 categories: renewable energy, energy efficiency, solid waste management, liquid waste management, alternative energy, fire burnt brick, non-fire block brick, recycling and recyclable product, ensuring factory worker safety, and so on. To benefit from this plan, 39 banks and 19 financial organizations have signed a participation agreement with Bangladesh Bank.
Bangladesh Climate Change Trust Fund
The Bangladesh Climate Change Trust Fund (BCCTF) has invested 449.3 million USD in 800 projects to implement key functions of the Bangladesh Climate Change Strategy and Action Plan (BCCSAP), which primarily focus on adaptation, mitigation, and climate change research.
Bangladesh Delta Plan 2100
The government has recently adopted the Bangladesh Delta Plan 2100, a 100-year strategy plan aiming at gradual sustainable growth through an adaptive delta management process. The Delta plan has included climate change as a significant future challenge. Climate change has been identified as a key future problem in the Delta plan. It reaffirms Bangladesh's commitment to reducing GHG emissions from key sectors through initiatives such as improving rice parboiling systems and increasing energy efficiency, as well as research into the suitability of various tree species for carbon-locking properties suitable for forestry programs. The plan aims to create a secure, climate-resilient, and prosperous delta by ensuring long-term water and food security, economic growth, and environmental sustainability, while also effectively decreasing natural disaster risk and fostering climate change resilience. A total of $37 billion is expected to be invested in 80 projects, with 34 of them being recognized as climate-sensitive.
National Adaptation Plan
Bangladesh is currently preparing the National Adaptation Plan (NAP) to address climate change. This will provide a summary of Bangladesh's climate change hazards, risks, and vulnerabilities. Current adaptation strategies for different impacts due to climate change undertaken in different projects/initiatives from both the government and NGO/CSOs will be identified and Success stories/case studies on resilient adaptation options will be included in the NAP. Future suggestions on the aforementioned concerns will be included in the plan, with an emphasis on regional and local solutions as well as national initiatives. A set of recommendations for institutions and implementation mechanisms from NAP will be included.

Apon Zahir is a Research Assistant at Centre for Governance Studies
Views in this article are author's own and do not necessarily reflect CGS policy.
Comments