Enforced Disappearance and the State
14 February 2022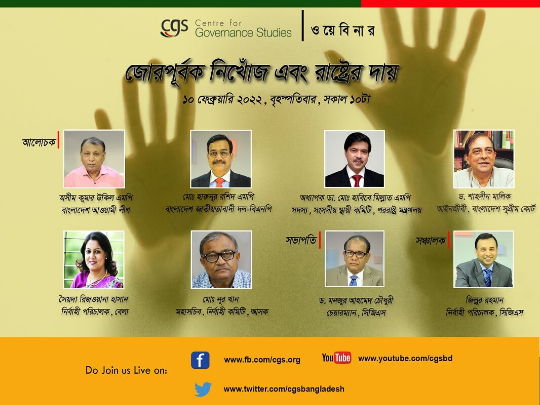 ---
Human rights violations in Bangladesh have become a regular occurrence in a variety of ways. Enforced Disappearance is one of them that has received considerable attention from national and international stakeholders over the last decade. On 10th February 2022, the Centre for Governance Studies hosted a webinar titled "Enforced Disappearance and the State" to discuss this issue. The webinar's objective was to bring together politicians, activists, and representatives of civil society on one platform to speak out against this heinous crime.
The webinar was hosted by the Executive Director of CGS Mr. Zillur Rahman. The discussants of the webinar were Ashim Kumar Ukil MP, Bangladesh Awami League, Harunur Rashid MP, Bangladesh Nationalist Party, Dr. Shahdeen Malik, Senior Advocate, Bangladesh Supreme Court, Syeda Rizwana Hasan, Chief Executive of Bangladesh Environment Lawyers Association (BELA), Md Nur Khan, General Secretary, Executive Committee of Ain o Salish Kendra (ASK). It was chaired by Dr. Manjur Ahmed Chowdhury, Chairman of the Centre for Governance Studies.
The host of the webinar Zillur Rahman in his introduction cited some reports regarding the cases of enforced disappearances. Referred from a project conducted by CGS, he said, the background of the victims are diversified such as Politicians, Academicians, Journalists, Students and so on where it is found law enforcement agencies were directly involved in many of these cases. He also said, the family members of the victims have been going through immeasurable difficulties from a lot of angles. When a person goes missing for an extended period of time, family members have no way of knowing whether he or she is still alive; in fact, family members may be unable to settle the victim's property due to administrative complications.
Ashim Kumar Ukil MP started his speech by saying, when a normal course of politics is disrupted, acts like enforced disappearance takes place While this is not expected, it should be avoided at all costs, he emphasized. He emphasized the importance of strengthening democratic institutions in order to prevent these occurrences. Every citizen of our country deserves to be treated fairly, and he hoped that everyone in society would contribute to making this country prosperous.
Harunur Rashid MP, in his speech, pointed out that the opposition party is being oppressed under the radar of extrajudicial killings and enforced disappearances. While criticizing the government he said, a number of people of his constituency became victims of disappearance and extrajudicial killing and the Home Ministry paid no attention to his call for a fair investigation into the allegations. There is a culture of fear in our country's politics so that nobody can stand up and protest against the government, all this just to gain cheap popularity and stay in power, he further added. Harunur Rashid MP also said it is the state's responsibility to identify who is behind these acts and should be held accountable for it, if the government wants enforced disappearances and killings to stop, it will stop.
Md Nur Khan remarked during his speech that "after I became vocal about the Naraynganj Seven murder case, I began receiving death threats and fortunately survived an abduction attempt." Mr. Nur stated that the situation was made so terrible that after some victims were released from captivity, they rarely spoke about their experiences. "From my own experience, it is up to law enforcement agencies to decide whether to investigate a case or not, and there are several examples involving extrajudicial killing and enforced disappearance in which law enforcement agencies are involved directly," he continued. To uphold the constitution each case of extrajudicial death and enforced disappearance must be investigated.
While addressing the responsibilities of the civil society, Syeda Rezwana Hasan said, there is no civil society here; they are either BNP Civil Society or Awami Civil Society. Those who strive to contribute from the impartial position are being oppressed under different forms of repressive regulations. She said that the government introduced stringent laws, including the Foreign Donations (Voluntary Activities) Regulation Act 2016, so that one could criticize the system. She insisted on reforming the existing system while ensuring the balance of power. She remarked, until and unless the law enforcement authorities do not represent the mass people, we can't expect offenses like Enforced Disappearance to be treated appropriately.
Dr. Shahdeen Malik, in his speech, said, there is law but there is a lack of implementation; it is the responsibility of the state to enforce them. While criticizing the Foreign Minister on his recent remarks on enforced disappearances, he said they are into the blame game but no outcome has been seen in such cases. He further pointed out, "because of the authoritarian government, it will take longer to serve justice, but if the justice is not served our country will be like Syria and Libya" He strongly believed justice will be served after 30-40 years if not today because without justice no society can survive. Our police force is still following the colonial police law which must be moderated and updated, he suggested.
During the speech, Dr. Manjur Ahmed Chowdhury said, enforced disappearances are one of the biggest crimes to wipe out all the existence of a person. He also said it is more dangerous than killing, the mental tortures faced by the closed ones of that person are immeasurable. He said all enforced disappearances and murders are not political. A lot of things are happening for money but politicians are not acknowledging this, he added. While blaming the retired bureaucrat-led human rights organizations he suggested strengthening the commission with more skilled manpower to address such issues with greater attention.
In conclusion, the discussants of the webinar agreed on the fact that securing justice for the victims of enforced disappearance is a far cry in the country since the existing legal system shelters the lawbreakers instead of protecting the victim families. They recommended that political will is a required to end this impunity of the perpetrators of forced disappearance.
Please click the link to watch full webinar: https://www.youtube.com/watch?v=TwUri6UzYuE
Comments