Rebooting the economy and forthcoming national budget
13 July 2020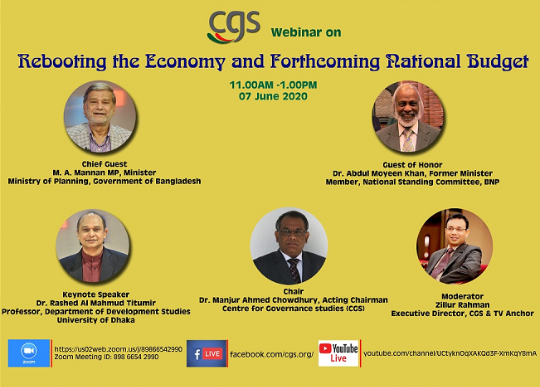 w1
---
The forthcoming national budget should be focused on agricultural, public health, and financial sectors with a view to developing the long term policies to address the challenges imposed by COVID-19 pandemic. The mission of the budget should be keeping the existing jobs intact and create new jobs as well and the government should develop a comprehensive three-year plan. These are the major concerns that Dr. Rashed Al Mahmud Titumir, Professor of the Department of Development Studies at the University of Dhaka, stated in his keynote statement in a webinar organized by Centre for Governance Studies (CGS) on 07 June 2020, Sunday. The title of the webinar was "Rebooting the economy and forthcoming national budget" The webinar was attended by scholars, business & civil society leaders, economists, political leaders.
The Honorable Planning Minister of Bangladesh Government Mr. M. A. Mannan MP, the chief guest of the webinar, stated his concerns on the emergence of the neo-poor due to the pandemic. He opined that the neo-poor will be abolished after the lockdown but he showed his concerns on corruption and mismanagement. The Guest of Honor Dr. Abdul Moyeen Khan, Member, National Standing Committee, Bangladesh Nationalist Party & Former Minister, said that the source of income would be difficult for this budget. He added that corruption and mismanagement should be controlled. Dr. Nazneen, a senior fellow of the Bangladesh Institute of Development Studies (BIDS), gave importance on a comprehensive three-year plan to address the aftermaths of the pandemic. IBCCI vice president and director of IBFB, Shoeb Chowdhury said that the government should give priority on RMG sector and foreign remittance to rescue the economy. Shahedul Islam Helal, a member of the advisory body of CGS, gave importance to the banking sectors and said that the budget should have specific concerns on the banking sectors. Noted banker Mamun Rashid showed his concerns about the corruption and mismanagement of the public health sector. Anwar-Ul-Alam Chowdhury Parvez, president of Bangladesh Chamber of Industries, gave importance to the lives and livelihoods of the employees. Dr. Mohammad Parvez Imdad, a Visiting Professor and the Lead Economist based in Manila, Philippines said that the government should focus on Public-Private Partnership (PPP) in the health sector.
Among others, Dr. Muhammad Abdul Majid, Former Chairman, NBR, Mir Nasir Hossain, Former President, FBCCI, Selima Ahmed, MP, President of Bangladesh Women Chamber of Commerce and Industry, Abdullah Hil Rakib, Managing Director, Team Group also expressed their concerns on various issues and opined their opinions on the forthcoming budget. The session was presided by Dr. Manjur Ahmed Chowdhury, Acting Chairman, Centre for Governance Studies and moderated by Mr. Zillur Rahman, Executive Director of the Centre.
Comments