Celebrating 50 Years of Bangladesh
20 December 2021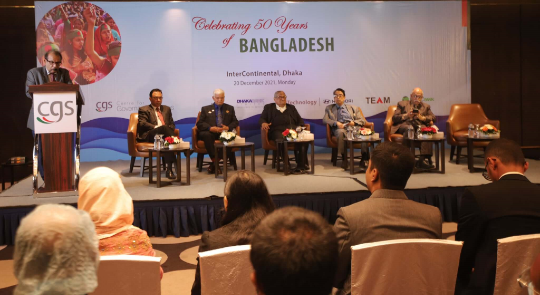 ---
Considering the significance of the journey, to celebrate the golden jubilee of Bangladesh, the Centre for Governance Studies has arranged some major initiates throughout the year. On March 2021, CGS arranged a daylong dialogue on '50 years of Bangladesh: Pathways and Trajectories'. Renowned people from all the sectors of Bangladesh were invited to share their thoughts, opinions, and views on the economy, governance, security, and development. On the consequences, an open essay competition program "Celebrating 50 Years of Bangladesh" on the achievement of Bangladesh in the last 50 years was also arranged. The participants were students from Higher Secondary to University. The main purpose of arranging the competition was to engage the future leaders of Bangladesh in this celebration. A booklet was published collecting the best submission from the attendees. The winners of the competition were honored in that event.
Dr. Akbar Ali Khan, Economist and Former Advisor, Caretaker Government; Lt. Colonel Jafar Imam (Retd.), Bir Bikram; Maj Gen (Retd.) Helal Morshed Khan, Bir Bikram, and Maj Gen (Retd.) Syed Muhammad Ibrahim, Bir Pratik, Executive Director of the Centre for Governance Studies Zillur Rahman, and Chairman of the Centre for Governance Studies Dr. Manjur Ahmed Chowdhury were present in the event.
Zillur Rahman conveyed his valuable speech and started the program.The speakers delivered their opinion on their experiences during the liberation war. They also portrayed a comparison picture of today's Bangladesh with the one that was in the '70s. Speakers had their thoughts on developing Bangladesh with the engagement of youth and their views. Speaking about the four fundamental pillars of Bangladesh's constitution, nationalism, socialism, democracy, secularism, Dr. Akber Ali Khan, the chief guest of the event stated that currently, the two most lacking parts are democracy and secularism. Dr. Manjur Ahmed Chowdhury, the Chairman of Centre for Governance Studies had his concluding remarks thanking the guests and congratulating the awardees.
After making their respective speeches, the special guests at the program awarded the prizes to the winners of the essay writing competition organized by CGS. Students of Honors and Intermediate levels participated in the open essay contest. The winners of the competition are as follows: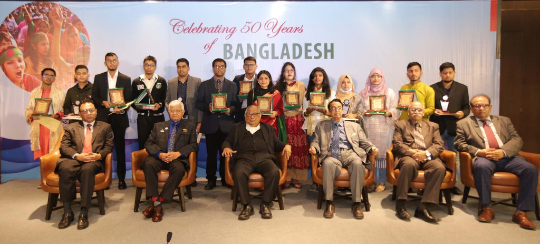 Honors level winners:
Bangla: First: Kawser Mahmud, Second: Puja Paul, Third: Bristy Das
English: First: Nafisa Sadia Sultana, Second: G.M. Sifat Iqbal
Intermediate level winners:
Bangla: First: Ahnaf Hasan, Second: Ayan Chakraborty, Third: Arghya Dutta
English: First: Khondaker Muneera Noor, Second: Aquib Ahmed Tahsin
Special Mentions:
Sakhawat Hosen, Md Shah Alam, KaziImdadul Hoque Anik, Md. Rafid Hasan, Dip Chowdhury Omi, Md Sakibur Rahman, Mirza Begum.
As per promise, CGS had initiated a campaign on the media and social media to increase participation over the next couple of months as well. The main aim of the program was to address the struggle for independence of Bangladesh, the struggle after independence to run the nation, the criticism of the present situation, and ways to improve it. Youth engagement and views towards a developing Bangladesh was also a big concern of the event.
Comments