Celebrating 50 Years of German- Bangladesh Relations
30 March 2022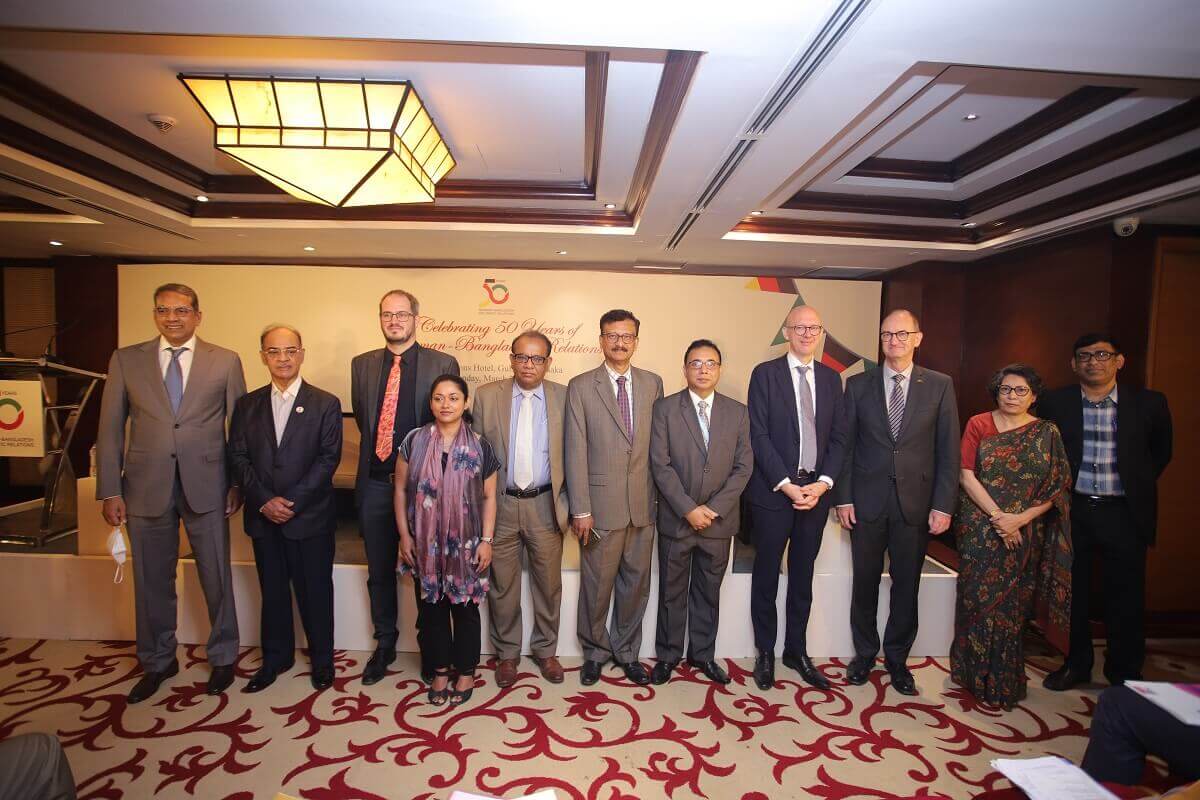 ---
On 28 March, 2022, the Centre for Governance Studies (CGS) organised an event, in collaboration with Friedrich-Ebert-Stiftung, titled "Celebrating 50 years of German-Bangladesh Relations" at the Six Seasons Hotel, Dhaka. The seminar was divided into six segments, including a panel discussion and a paper presentation.
Felix Kolbitz, Resident Representative, Friedrich-Ebert-Stiftung, Bangladesh, and Dr. Manjur A Chowdhury, Chairman, Centre for Governance Studies, gave their opening remarks in the program.
Mr. Kolbitz said that in the past 50 years, our relations have transformed into a strong partnership. He also highlighted areas in which there is potential for expansion in diplomatic relations beyond trade and development cooperation, such as academic, cultural and civil society exchanges.
Dr. Chowdhury stated that Bangladesh is not a party to any strategic treaty with Germany yet, but we have a strong and vibrant economic relationship. Now Germany is the second-largest destination of export products from Bangladesh.
Lt. Col. Muhammad Faruk Khan (Retd.) MP, Chairman of Parliamentary Standing Committee on Foreign Affairs and former Minister, and HE Achim Tröster, German Ambassador to Bangladesh, joined the program as the guests of honour.
Ambassador Achim Tröster thanked CGS and FES, reiterating the importance of the event. He congratulated both of the country's people for 50 years of successful and mutually beneficial relations. He said that Bangladesh has the possibility to become a middle-income country quickly. He stated that Germany is creating a special kind of climate development partnership with Bangladesh to assist in mitigating the looming threat of climate change, which the German government offered to only ten countries.
MP Faruk Khan made a brief statement emphasising the need to further collaboration between Bangladesh and Germany.
The keynote speech was presented by Md. Touhid Hossain, former Foreign Secretary of the Bangladesh Government. He presented his paper titled "Prospects and Challenges in Bangladesh's Relationship with Germany and the European Union, on its 50th Anniversary of Independence". Mr. Hossain's keynote paper on Bangladesh-German relations covered various diplomatic aspects such as matters of regional security, the necessity of Bangladesh in maintaining minimal military deterrence capacity, the potential for Bangladesh to export consumer and intermediate goods to Europe, and the long-term implications of the Rohingya refugee crisis. The paper focused on the enormous amount of financial support provided by Germany and the EU while also indicating the lack of economic investment and capacity building in Bangladesh. The former ambassador also made a case for why a strong Bangladesh is good for Europe and Germany. He argued that, unlike other regional powers, Bangladesh is not encumbered by any pre-existing security obligations and treaties. Therefore, there is absolutely no downside to forming deeper strategic relations with Bangladesh.
Following the keynote presentation to the audience, a panel discussion was held in the program.
The Panelists in the event were: H.E. Charles Whiteley, Ambassador, European Union (EU) Delegation to Bangladesh, Ambassador Nasim Ferdous, Advisor, Centre for Governance Studies, Faiyaz Murshid Kazi, Director General (West Europe and European Union), Ministry of Foreign Affairs, Dhaka, Abdul Muktadir, Chair, Bangladesh-German Chamber of Commerce & Industry Committees, and Senior Vice-President, Bangladesh Association of Pharmaceutical Industries, Rubaiyat Hossain, Filmmaker, Writer and Interdisciplinary Researcher.
Zillur Rahman, Executive Director of the Centre for Governance Studies, moderated the panel discussion.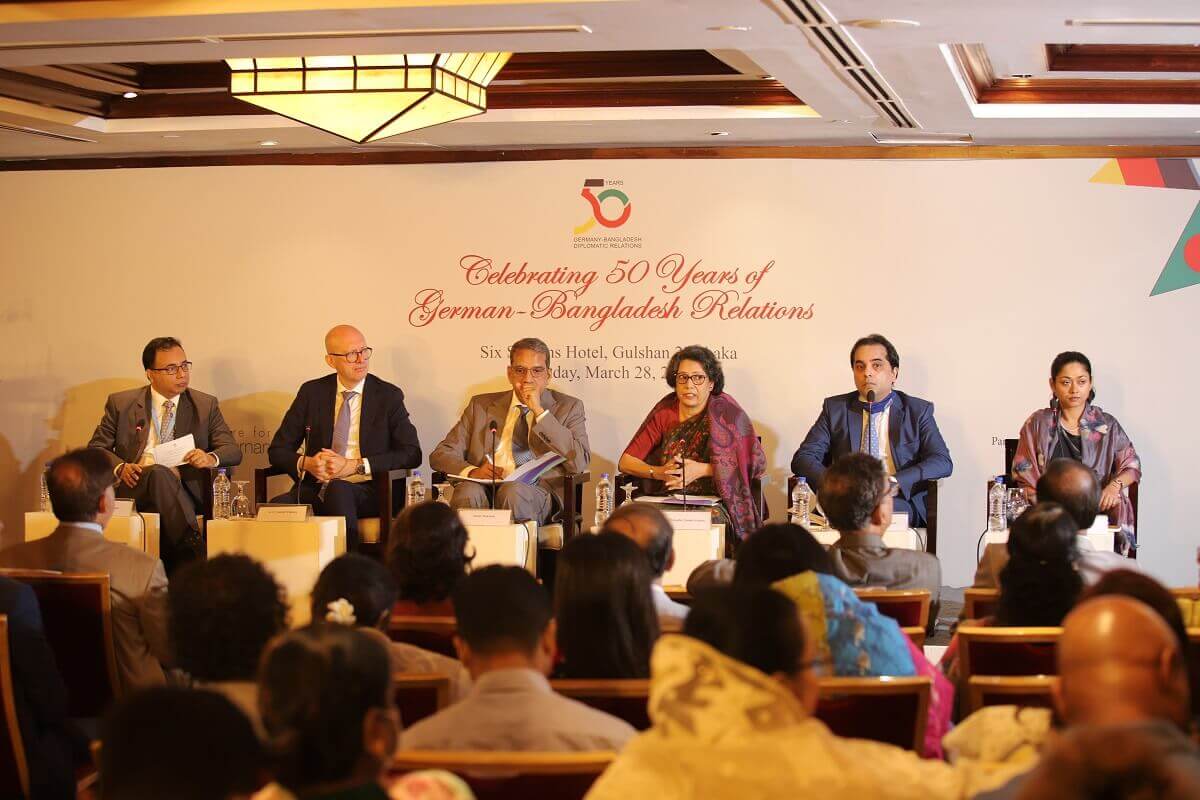 Mr. Charles Whiteley Stated that the Bangladesh-EU-Germany relationship is too important to risk failing. He talked about issues of diversification of exports, duty-free access to the EU markets, and mutual interest in climate change mitigation among Bangladesh and the nations of the EU. Responding to the keynote paper, the EU ambassador stated that Bangladesh and the European countries' current economic relationship was still not sophisticated enough to allow for a free trade agreement. This was due to the low level of Foreign Direct Investment. He, however, followed up by saying that the European investment bank is showing interest in investing in Bangladesh, particularly in terms of climate change aid and renewable energy projects.
Ambassador Nasim Ferdous focused on the aspect of the keynote that talked about the state of education in Bangladesh. She stated that Germany has an opportunity here to make a difference. According to the former ambassador, Bangladesh lacks technical education, and providing such education can be a lucrative field for investment.
Mr. Faiyaz Murshid Kazi stated that Bangladesh was once wholly dependent on the UK to represent its interest on the international stage. However, after Brexit, we saw the need to reach out to other European nations. He went on to say that the Rohingya refugee crisis has changed the perception of Bangladesh abroad. Now Bangladesh is being looked at as a provider of regional stability. This new perception has created greater relevance for Bangladesh in creating more strategic relations with Europe, particularly to set a buffer against ongoing regional geopolitical power struggles. He concluded that even if a Free Trade Agreement is impossible, Bangladesh should still seek to create a more sophisticated trade relationship with Europe and Germany.
Mr. Abdul Muktadir reiterated the education aspect of the keynote. He stated that the German model of giving technical skills is essential for Bangladesh. He criticised Bangladesh's education system's tendency to churn out BBA graduates who are essentially unemployable. He stated that if we can improve the quality of education in the fields of science such as biotech, we can bring in more foreign investment. He also stated that EU and German investments in Bangladesh are not noticeable compared to the investments of China and India. He concluded that Bangladesh needs to create a situation for comfortable investment from Europe.
Ms. Rubaiyat Hossain commented on women's education in Bangladesh and how Europe and the West's influence gradually changed the existing culture. According to her, women in Bangladesh are now talking about feminism after finding inspiration from nations of Europe. She also stated that there is an immense possibility for cultural exchange between Germany and Bangladesh, particularly in the field of film production. She concluded by emphasising the need to look at the cultural side of such bilateral relations instead of just focusing on trade.
After the panel discussion, a "Question & Answer" session was introduced by Mr. Zillur Rahman. He invited all the audience to participate in the segment as it was an open floor discussion.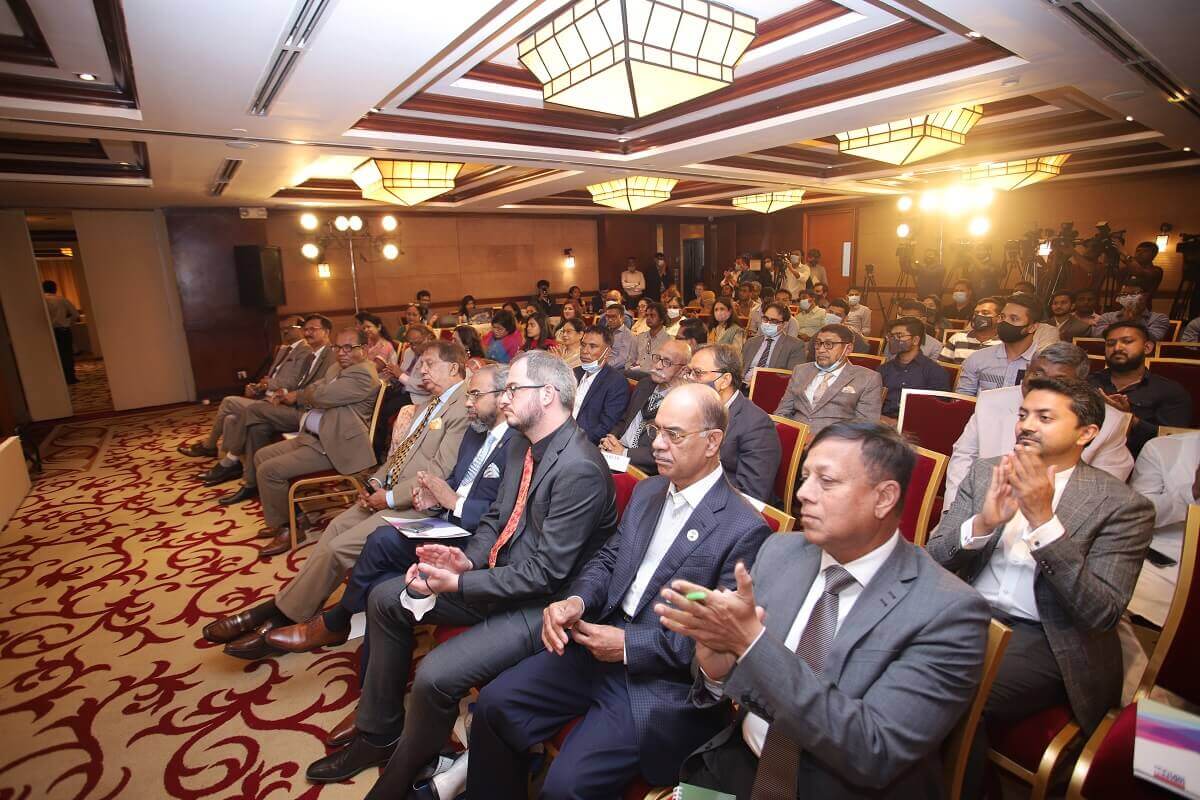 Former Foreign Secretary, and Former Bangladeshi Ambassador to Germany Shamsher Mubin Chowdhury, Garments worker's leader Nazma Akhter, former MP Nurjahan Begum Mukta, president of FEMA Munira Khan, Major Zillur Rahman, Organizing Secretary of Bangladesh Nationalist Party (BNP) Shama Obaid, Chairman of Japan Bangladesh friendship Hospital Prof. Dr. Naim, and some other guests participated in the question and answer session. They raised questions and opinions on several aspects of Bangladesh-German relations.
Mr. Shadhan Kumar Das, Programme Director of the Friedrich-Ebert-Stiftung, Bangladesh, concluded the event with his speech. He thanked the guests for coming and invited them to have lunch.
Comments