Rape and impunity (not only) in Bangladesh
Alex Kliment | 15 October 2020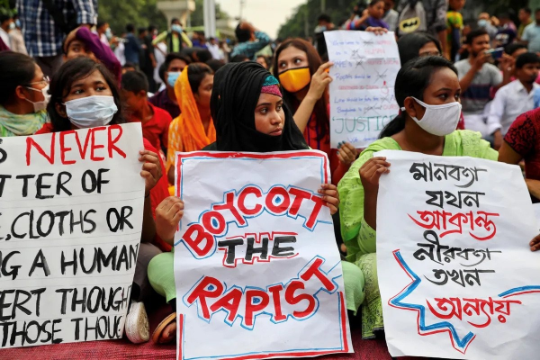 ---
Last month in Bangladesh, a video showing the gang rape of a 37-year old woman went viral on Facebook. Eight men implicated in the crime were apprehended, but the incident — along with several other high profile cases of sexual violence — has provoked massive protests in the capital, Dhaka, and other parts of the country. There were calls for the Prime Minister to resign.
The protesters have a lot to be mad about. Back in January, mass protests over the rape of a university student in Dhaka brought thousands into the streets. The government promised to create, "within 30 days", a special commission to investigate rising reports of sexual violence in Bangladesh. More than nine months later, it still doesn't appear to exist.
In the meantime, local activists have counted more than 1,000 public reports of sexual assault so far this year. In a country of 170 million, that is doubtless a gross undercount.
In response to the recent protests, the government announced that, as of yesterday, the penalty for rape convictions will be elevated from life imprisonment to execution.
But activists say that's almost beside the point. As in many cases of injustice around gender-based violence around the world, the problem isn't only that the punishments aren't severe enough for those convicted — it's also that a broader web of legal and cultural norms in many parts of South Asia favor men, creating an atmosphere of impunity around sexual assault altogether. The UN recently called out Bangladesh's "social, behavioral, and structural misogyny."
What does that mean in practice? For one thing, women in Bangladesh often fear coming forward with rape claims at all, because of poor legal protections for them and a culture that stigmatizes victims of sexual violence. Over the weekend, for example, a famous Bangladeshi actor suggested that "wearing indecent dresses" is an invitation to rape. And last year a 19-year old student at a conservative Islamic school there accused her headmaster of sexual harassment. Five days later she was burned to death on the premises.
What's more, as Zyma Islam and NilimiaJahan of the Dhaka-based Daily Star point out, the law's definition of rape is narrow, outdated, and rarely enforced. Small wonder then that conviction rates in Bangladesh may be as low as 3 percent.
Bottom line: The government's decision to impose stiffer penalties on those convicted of rape is a step forward, but harsher punishments are one thing — changing the legal and moral structures of a conservative society is another. How — and how fast — does that change happen?
A look around the world at protests over violence against women
The protests in Bangladesh are part of a wave of demonstrations that have occurred in countries around the world over the past several months. Here's a look at several that stand out.
Australia. Just before the pandemic struck, the rape and murder of a 21-year old Arab Israeli exchange student brought thousands into the streets in January to denounce a string of high-profile violent attacks against women.
India. Two weeks ago, the rape, torture, and killing of a low-caste woman allegedly by upper-caste Indians in the State of Uttar Pradesh brought protesters into the streets after local authorities appeared to try to cover up the crime. In March, four men were executed for raping a woman on a bus in 2012, in a case that galvanized greater action and attention to violence against women in the country. Scrutiny of sexual violence has become a pointedly political issue in recent years, with several senior members of India's ruling BJP party implicated in rape cases.
Mexico. In March, tens of thousands of women across the country went on strike to call attention to an epidemic of gender-based violence that kills as many as ten Mexican women every day.
Nigeria. The rape and murder of a 22-year old woman in late July sparked sizable protests (hashtag #wearetired) in a country where polls show that up to one in three women experiences sexual assault by the age of 25, but laws against sexual violence are rarely enforced.
Spain. In March, tens of thousands of women across Spain took to the streets to protest gender-based violence, in an echo of protests that took place last year when a court soft-pedalled the conviction of a group of men who in 2016 gang raped an intoxicated 14-year old girl.
Alex Kliment is Creative Director at GZERO Media and a Senior Editor of Signal.
This article was originally published on GZERO Media.
Views in this article are author's own and do not necessarily reflect CGS policy.
Comments