Energy Transition in South Asia is Critical to Reaching Global Net-Zero
Guangzhe Chen | 14 November 2021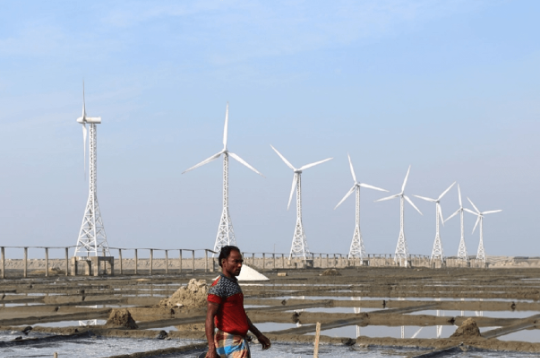 ---
On October 31, world leaders converged in Glasgow for the start of COP26, hoping to take steps to achieve ambitious global climate goals. One of those goals is to reach net-zero emissions by 2050. Energy transition in South Asia will be critical to making this happen.
Energy transition will also be critical to reducing poverty and creating jobs . Globally, jobs in the renewable energy sector reached 12 million globally in 2020, and a shift to a low-carbon, resilient economy could create over 50 million new jobs by 2030 in Bangladesh and India alone.
The emissions challenge in South Asia and the Energy sector
In South Asia, energy production is still primarily based on fossil fuels. Greenhouse gases generated through energy production represent 63% of regional emissions. The transition to low-carbon energy in South Asia is a priority and is critical to limiting emissions in the region.
However, this transition will need to occur as demand for energy in South Asia soars-- demand has risen by 50% since 2000. The region's need for power is expected to double within this decade. South Asia has made recent progress in providing electricity access to its hardest to reach populations, with Bangladesh, India, and Nepal driving gains in electrification. However, expanding reliability and availability of clean, affordable power remains crucial to consolidate the developmental gains from improved access.
Facilitating the net-zero transition
The good news is that renewable energy costs have fallen over the past decade as electricity prices from solar energy and onshore wind have declined by 89% and 70%, respectively. These technologies provide cheaper alternatives to fossil fuels. Countries such as India have increased the share of renewables in their energy mix, with wind and solar energy now representing 7% of total generation, twice their share in 2014. However, a "net-zero emissions" future will require a series of disruptive technologies to provide clean energy safely and affordably. To facilitate the net-zero transition, countries in the region can focus efforts in the following four areas in line with the goals of COP26.
First, countries can focus on core energy transitions which means building alternatives to fossil fuels. This includes supporting the expansion of renewable energy sources such as solar, onshore wind, and hydro. It also involves accelerating the deployment of newer technologies such as offshore wind and battery storage systems which enable energy from renewables, like solar and wind, to be stored and then released when customers need power most. Furthermore, in line with the stated goal of COP26 on climate adaptation, countries can upgrade their grid networks to support the integration of renewable energy sources to make them resilient. Countries can also strengthen the development of a vibrant regional energy market, including supporting the development of green corridors to make energy more accessible to all.
Second, countries can prioritize decarbonization of the industrial and transport sectors by promoting the efficient use of energy and raw materials and reducing reliance on coal in industries such as iron and steel. In transport, countries can scale up electric mobility solutions and explore alternative fuels such as green hydrogen.
Third, it is important that the energy transition is a just transition, where no one gets left behind. Accelerating the energy transition in South Asia will require retiring coal-fired power plants, which will impact industries and jobs. In line with COP26's second goal of adapting to protect communities, governments need to provide safety nets for lost livelihoods and prioritize support for alternative industries to create new jobs.
Fourth, accelerate private sector investment in the energy transition. South Asia's low-carbon energy goals call for a significant increase in energy sector investments. COP26 aims to mobilize finance for climate action, and the World Bank Group is committed to mobilizing resources to support countries' sustainable energy goals. In Pakistan, we have successfully mobilized over US$1.2 billion in commercial financing for hydropower. Our experience has shown that energy transitions require continuous investments in new energy innovations to achieve breakthroughs. To date, we are supporting governments to create a sustainable market for e-mobility and battery storage in India and Bangladesh, which will help achieve a greener transportation system and enable the increased use of renewables to supply electricity. Once the technology's viability is demonstrated, commercial investments and market consolidation can help scale up adoption.
Looking ahead
South Asia has the potential to boost its zero-carbon power generation capacities significantly. It has abundant renewable energy resources, an emerging regional power market, and governments committed to taking decisive action. More than ever, the World Bank Group is committed to supporting governments in pioneering new decarbonized development models and leveraging market development for energy innovations and just transitions.
Our new Climate Change Action Plan 2021-2025 and our South Asia Climate Road Map demonstrate how we will increase high-impact support to deliver climate results targeted towards reducing the trajectory of emissions and strengthening adaptation and resilience. In the long term, achieving energy sector decarbonization will improve energy security in the region, lower energy prices for households, promote the manufacturing industry and job growth, and significantly contribute to climate change mitigation.
Guangzhe Chen, Regional Director for Infrastructure in South Asia, World Bank.
This article was originally published on The World Bank Blog.
Views in this article are author's own and do not necessarily reflect CGS policy.
Comments