Good Touch, Bad Touch: Child Sexual Abuse Pre and Post-Pandemic
Depanjali Roy | 07 July 2021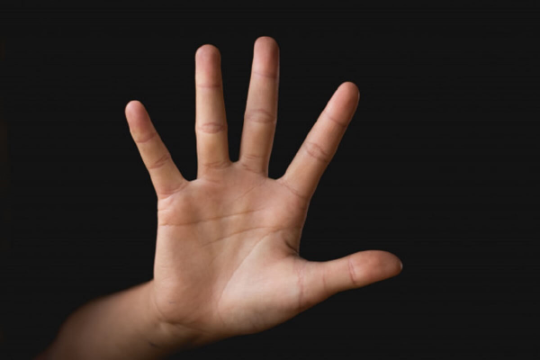 ---
Children are born into this world, and as they get older, they are nourished by the people and surroundings around them. Growing up is not always a joyful experience for all children, as some of them are exposed to the grim truths of the world.
This is a discussion concerning sexual abuse and harassment of children. These experiences traumatize a child in an innocent stage of life and hampers their growing-up process as well. Every country has cases of child sexual abuse and harassment; even the most sophisticated countries are powerless to prevent it. With the advent of the internet, it is becoming more difficult to safeguard children from harassment, as seen by a wide spectrum of examples of online harassment. Bangladesh lags in terms of protecting its children from sexual assault and harassment. Harassment has also been witnessed during pandemics when online courses have been used to manage the educational system. These occurrences have not even prompted the authorities to take appropriate actions, and additional factors will be considered as the inquiry progresses.
Child sexual abuse is a broad thing to explain. It is a traumatized situation for children and teens to experience any sexual acts be it forced penetration, inappropriate touching, manipulation, intimidation, rape, sexual indication, exposure to pornography, etc. Children not only face sexual abuse, but also physical and emotional abuse, in their stage of mental and physical development.
Violence against children has increased by folds during the pandemic. It is quite shocking to think that children are not safe even when people are meant to stay at home. Violence against children already costs the world economy USD 7 trillion annually. According to a survey of 217 studies in 2019 by Ain O Salish Kendra (ASK), one in every eight children (12.7 percent) were sexually molested before the age of 18. In over half of these incidents, the age of the women who were raped was not indicated. However, 86 percent of the rest are children younger than 12 years of age. Boys are also sexually harassed in many cases, estimated at 5 to 7 percent but girls are at a greater risk. Many cases are not even reported to the police. No legal action is taken against the perpetrators. The parents of the children are not willing to report as they think this will affect their upbringing but mostly because parents think it will harm their respect and dignity in the society. However, the opposite happens when the child does not get any help to recover from the trauma. Moreover, sexual abuse occurs because of child marriage as well. A minor getting married and experiencing sexual action forcefully is also considered sexual violence.
In 2020, when the pandemic hit, the situation was new to the world, and day by day people around the world tried to cope with the new way of life. Children had to adapt to a new way of education through online classes, as all the institutions were closed.
According to the Manusher Jonno Foundation (MJF), 626 minors were "sexually abused" between January and December 2020. Thirty percent of the children were abused online in the time of pandemic, as revealed by ASK, and the number increased by four times in 2021. The majority of the time, a kid is sexually molested or harassed by a member of their own family. For individuals seeking this opportunity, quarantine becomes an advantage.
Child sexual abuse happened in the pre-pandemic times as well. As per the Center for Global Development, between March 2019 and March 2020, about 400,000 girls in ten countries were reported to have endured sexual assault in schools. We also came to know many cases of abuse or rape by madrasa teachers. Schools should be the safest place for children but sometimes it becomes a nightmare for some. People came to know about child sexual abuse recently as elderly people started talking about dreadful experiences from their childhood.
Reasons for child sexual abuse can be poor economic conditions, gender power relations in society, lack of parental concern, not educating children about getting out of that situation, etc. Sometimes parents with poor economic conditions don't put enough attention to their children, sometimes pushing their children to have sexual relations with an adult in exchange for money. This happens due to their economic instability. The gender-power relationship in society is a difficult concept to grasp and is a major contributor to child sexual abuse. Though equality has become common in recent years, we still live in a world where it is difficult to reconcile patriarchy. Women and girls are always controlled and deemed second-class citizens in our society, and as a result, they are assaulted and harassed by men in nearly every area. Because the majority of the affected children are female, this authority is also used by certain male adults in the instance of child abuse, because the offender has perceived society as male dominating since infancy.
Often, parents are not concerned about their children's behavior. They avoid by thinking of it as a phase for the child which turns out to be a traumatic experience. Parents should evaluate every kind of behavior as it is difficult for a child to explain certain things or giving words to them. So, it comes down to educating the children about their body, limitations, and the possible dangers they can experience. As the world is not getting any better, parents must prepare their children to be aware of the dangers. To be concerned about their private parts, teaching them about "good touch" and "bad touch", to not let any stranger touch their body in certain places, create commotion if a stranger attempts to touch them, keep contact numbers of parents memorized, reach the closest person possible and tell them, etc. can be taught to the children.
Children are the future of the country and can contribute a lot with proper guidance and care. Incidents of sexual harassment and abuse hamper a child's mental development which indirectly hampers his/her contribution to the country as well. So, strict laws can make a child's life secure and protected.
The Prevention of Cruelty against Women and Children Act of 2000 (as amended in 2003) protects females under the age of 18 from sexual abuse and violence, however, it does not protect females under the age of 18 who are married. This particular point needs to be cleared because a married girl under 18 is also considered as a child. Marrying a girl off before age of 18 should be considered a crime. Child Marriage Restraint Act, 2017 which allows girls under 18 to marry in special circumstances with parental consent and with permission from the courts is highly vague because it only encourages child marriages. No monitoring measures are taken to go through the "special circumstances" clause which will justify the marriage of a child. Therefore, these two acts are contradictory and need to be cleared. The Local Government Act (2009) protects children from violent schools but in this section, the word "violence" needs to be explained. It should include sexual abuse as violence as well. On the other hand, the schools should include a strict policy against child sexual abuse.
Other than making laws, some significant steps also need to be taken to prevent child sexual abuse. They are:
• Parents need to talk about bodies, boundaries, and sex with their children. They also need to teach them what is an appropriate touch (good touch) and inappropriate touch (bad touch), so a child knows what has happened to him/her and speak up about it.
• Make the children memorize certain contact numbers and acts which they can use when any stranger tries to approach them.
• Parents and teachers need to observe the children they are scared to meet any particular person or avoid particular situation in home or school.
• As parents are facing new dimensions to bring up children, the schools can arrange meeting and sessions with the child psychologist, so the psychologist can explain how the parents can talk to their children about sexual abuse and the potential dangers.
• Monitor children in the time of online classes.
• Parents can make an environment for children in which they can share anything with them.
• Schools should introduce weekly protection lessons for children. This will include activities and situations from which the children will understand how to react when touched in a wrong way.
• Schools should appoint child psychologists to whom they can tell or share any problem.
• As most of the children experience sexual harassment by close member, thus parents of the child should confront the perpetrator and take legal actions as well.
• Online child sexual abuse and pedophilia is needed to be addressed in the legal system so that this particular crime can be pointed and legal actions taken.
• In rural areas, child marriages should be banned and government programs encouraged to send children, especially girls, to school.
• Government should grant easy loans to poor people in rural places so they don't need to marry off their girl child who might experience sexual abuse in future.
To avoid child sexual abuse in Bangladesh, all of the criteria mentioned above are extremely important. Talking about sex is still taboo in Bangladesh, yet it is necessary to confront some of the issues if future generations are to be secured. It is our responsibility to provide a safer environment for our children at home, at school, in the classroom, and in public places. It is past time to teach children about their bodies. Strict legislation against abusers, speaking up about traumatic experiences, and receiving good therapy might all assist to combat this crime. Every endeavor should be followed through to completion. It will be futile if no individual or legal actions are taken.
Depanjali Roy, Program Assistant, Centre for Governance Studies (CGS).
Views in this article are author's own and do not necessarily reflect CGS policy.
Comments